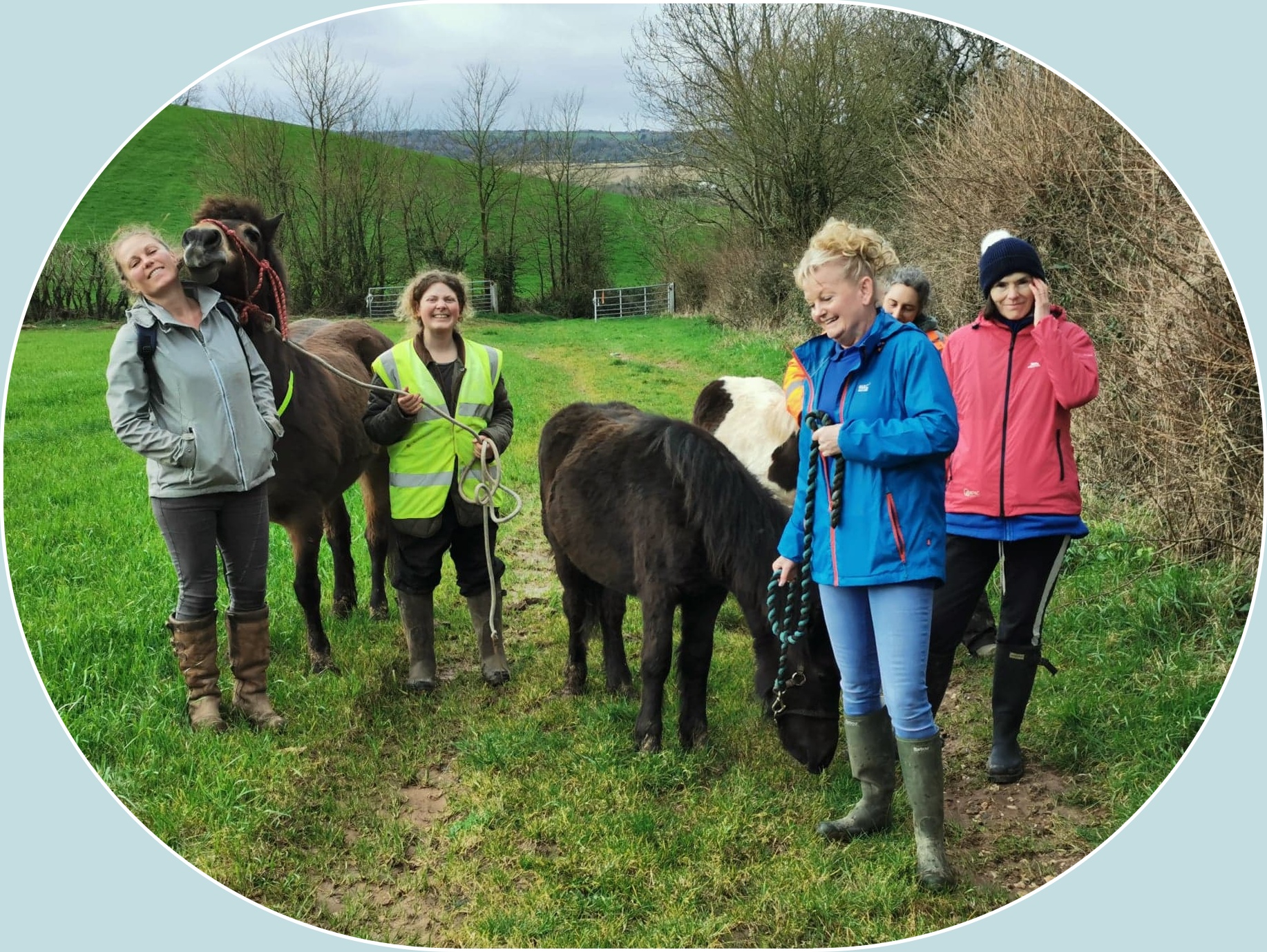 On Sunday we had our first HERD (Horse Explorers Roaming Devon) walk, which i had been looking forward to all week, taking the ponies for lots of little practice walks too. As could have been predicted however, on the morning of the HERD walk, the weather forecast changed for the worst! We arrived at the ponies' field to see all four of them taking shelter along the furthest hedge line - somewhere they shouldn't have had access to, so must have broken through some electric fencing - oh, perfect! As Bill and I stepped out of the van, we were encased in a whirlwind of almighty gusts, and a world of knocking and crashing while the howling wind reaps havoc. I got in touch with Catherine to tell her that it was up to her if she still wanted to bring along her horse, Alice.
Alice and Catherine have a dressage clinic coming up, so the more loading and travelling the better, with short trips like this ideal in the run up to a longer drive. Alice loaded well, and Catherine set off despite the wind my end.
Then the rain came too! At this point I contacted those who had expressed interest in coming, and let them know that they were very welcome to still come along, but I quite understood if not, because we might not get the ponies out for a walk in this weather. As with any new group, even just meeting up to touch base and bounce ideas off of each other is a valuable piece in the cultivation of a successful group. As it happened, everybody still seemed keen!
Jenny Nott arrived at the gate first, and she and I exchanged pleasantries while I continued in my dash to complete the mucking out, making our humble field look presentable for visitors. Of course, we knew as soon as Alice was on the way down the lane, as all four ponies stood alert, nostrils flaring as they took in the scent of a stranger, with Skylark marking the occasion with a loud and resounding neigh into the wind.
Kind and gentle Alice took stock of her surroundings while Catherine opened up the horsebox, and then she carefully stepped out onto solid ground. She has met Skylark, Spirit, and Ash once before, so I imagine something like oh no, not them! May have been going through her head, plus the fact that they had an additional miniature Shetland (Shadow) with them now too!
Catherine walked Alice along our track and into the top half of the field, where Alice could enjoy the luxury of a dry underfoot field, and a reasonable amount of grass too. My four slowly realised that they could head out into the bottom half of the field, and actually meet Alice over the fence. When realisation struck, they raced over to the fence, and all jostled to investigate this stranger on they land! Alice purposefully positioned herself away from them and nonchalantly ate more grass. This may look like she was ignoring them, but actually she had her eyes on the intense four the entire time as she grazed.
It seemed clear that all 5 horses needed more time to process this situation, so we walked down to the tack room for a cup of coffee. Mickey and Emma from Munchkins then arrived and met all of us, plus Hilary the cat, who was delighted at having numerous people to receive love from! Bill headed off at this point, for he had already decided that this would not be a sensible day to take Ash, his pony, out on the roads in a large group of people and horses. Rather sensible, horse centred thinking on his part. We all walked back out to admire and observe the herd dynamics again, all from the other side of the fence so as not to interfere in their important introductions. Mickey and Emma found it a real treat to watch horses larger than miniature Shetlands, particularly Alice in all her Shire horse glory. As another band of rain came in, another cup of coffee sounded like a great idea. We arranged some hay bales to sit on in the hay shelter, and settled in to a discussion covering new ideas for the HERD group. We had all decided this would be just as productive as heading out for a walk, and seemed like the right thing to do in such horrendous weather. That is, until I got a text message from Devon Haylage's Claire Burrow, saying she was ready to meet us with one of her horses! I quickly messaged her back to let her know all the horses were running riot in the storm, but would she be happy for us to come and join her instead? She agreed that was no problem, and that meant she could take her Dartmoor foals out as well. We headed off.
At this point I want to give a shout out to Devon Haylage, who work tirelessly to produce exceptional forage for whatever your equine's needs - click on the logo below to head over to their website. 
Now, it turns out that it had been a stormy microclimate at our place, as we are very exposed to North Westerly winds, which gave us a completely false perception of what the weather was like everywhere else! Down at Waxway Farm, sheltered from the wind there was barely a breeze, and no rain! Each of us were heavily over dressed, and all a little overheated in this delightfully sheltered new environment. No wonder Claire thought it was bonkers that none of our horses were able to come for the walk!
We set off on Waxway Farm's "walk around the block", six of us, with three ponies and two dogs; Dora the Exmoor (also known as Dora the Explorer), Arrow and Gypsy the Dartmoor foals, and Alfie and Jess the dogs. The first challenge was walking three ponies through a field of Devon Haylage's ryegrass crop - "Haribo grass" as Claire called it with regards to native ponies at least. This was a little too exciting for whizzy colt, Arrow. Catherine helped try to channel his energy as he sprang around on the spot like Tigger from Winnie the Pooh. Soon we were out of this field, and I gave Dora's rope to Emma, and offered to take Arrow's lead rope from Catherine so that she could have a break from leading a pony like a kite! Dora and Gypsy seemed to take the whole walk in their stride, while the dogs played in the grass and delighted at new smells. New smells were a delight for the ponies too, each of them breathing in deep the particulars from any horse poo they came across as we walked on the lanes at the foot of East Hill.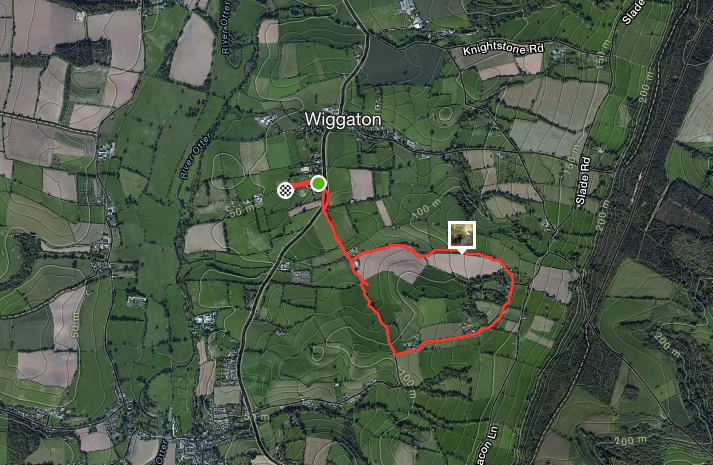 I think we only came across one car on the East Hill lanes. It was a perfect Sunday stroll from that respect! What we did see were plenty of Primroses, which had popped out of stone walls, and decorated grassy banks. Daffodils were beginning to put on a joyful show too. The yellow of the Primroses and Daffodils begins to add colour into the the winter picture of dull greens and browns, and the overriding undertone of excessive mud.
Turning right down a bridleway, there was a gateway where previously, Bill and Ash and I have stopped and admired the view of rolling devon hills. At this point Arrow did some gateway grazing while I took my coat back from Jenny, who I had offloaded it to when keeping up with energetic Arrow had kept me warm. Arrow regarded a giant tower of haylage bales wrapped in black plastic. Although mildly fearful, he stood his ground and decided flight was not necessary. His equus curiosity was satisfied, and we moved on. We eventually got to a stony track, which has a constant stream of water running down it at this time of year. This is narrow and rocky, with plenty of interesting browsing opportunities for the ponies. What it does require though, is good scrambling skills, and to walk in single file. It is harder to negotiate this downhill rocky track if you want to walk beside your pony rather than in front or behind him or her. Emma queried this as Dora took off at her own pace, choosing her footing with perfect native pony precision, while Emma struggled to scramble after her. Claire advised her to loop the rope over her back, the technique of which I demonstrated, and then let her go, if need be. Once we did this, Dora was far happier with the arrangement, and marched down the track at her own pace, taking mouthfuls of sedge grass and investigating various different types of leaves and branches as she went. By this point in the walk Arrow and Gypsy were thoroughly enjoying investigating the stimulating smells and sounds of water, mud, and scents on the air. The various textures underfoot must also be so stimulating for proprioception.
After tackling this track, we arrived back out onto Waxway Farm - Arrow and I did this in style, scaling up a Devon bank, and then scrambling down the other side. Gypsy and Mickey followed suit. It is always nice to find onconventional routes - far more gymnasticising for both horse and human too!
The last little challenge was to head back over Claire's narrow bridge to get to the ponies' yard. Arrow and I went first, and then Dora with Catherine - Catherine stood no chance as Dora bustled in front of her and marched over the bridge, then out onto the bank, using trees as a slalom on her way down. There was me thinking me and Arrow had been adventurous in our little bank adventure!
Back on the yard and head collars off - the ponies disappeared into a field and had an obligatory roll. At this point Trevor the goat stole the show, and got plenty of fuss from us all, plus the odd goat treat provided by Claire. Everybody was delighted to have been out for a walk, even if not with the ponies we had originally intended to take out!
On arrival back to our field, we could see that introductions were still underway. Lunchtime was calling for us humans, so we said our goodbyes and parted ways, all very satisfied with the first HERD walk.
Catherine and I went back to mine for lunch, numerous cups of tea, and a business chat. In the afternoon we took Alice and Shadow for a tiny little walk up to the road and back, which was more than enough for them at this stage. It is so important to take the small steps, in order for our horses to truly enjoy the activities we want to enjoy with them. This is why we will never be afraid to take an extremely relaxed pace over these HERD meetings, and ensure that flexibility for horse's sake is the overarching message, always.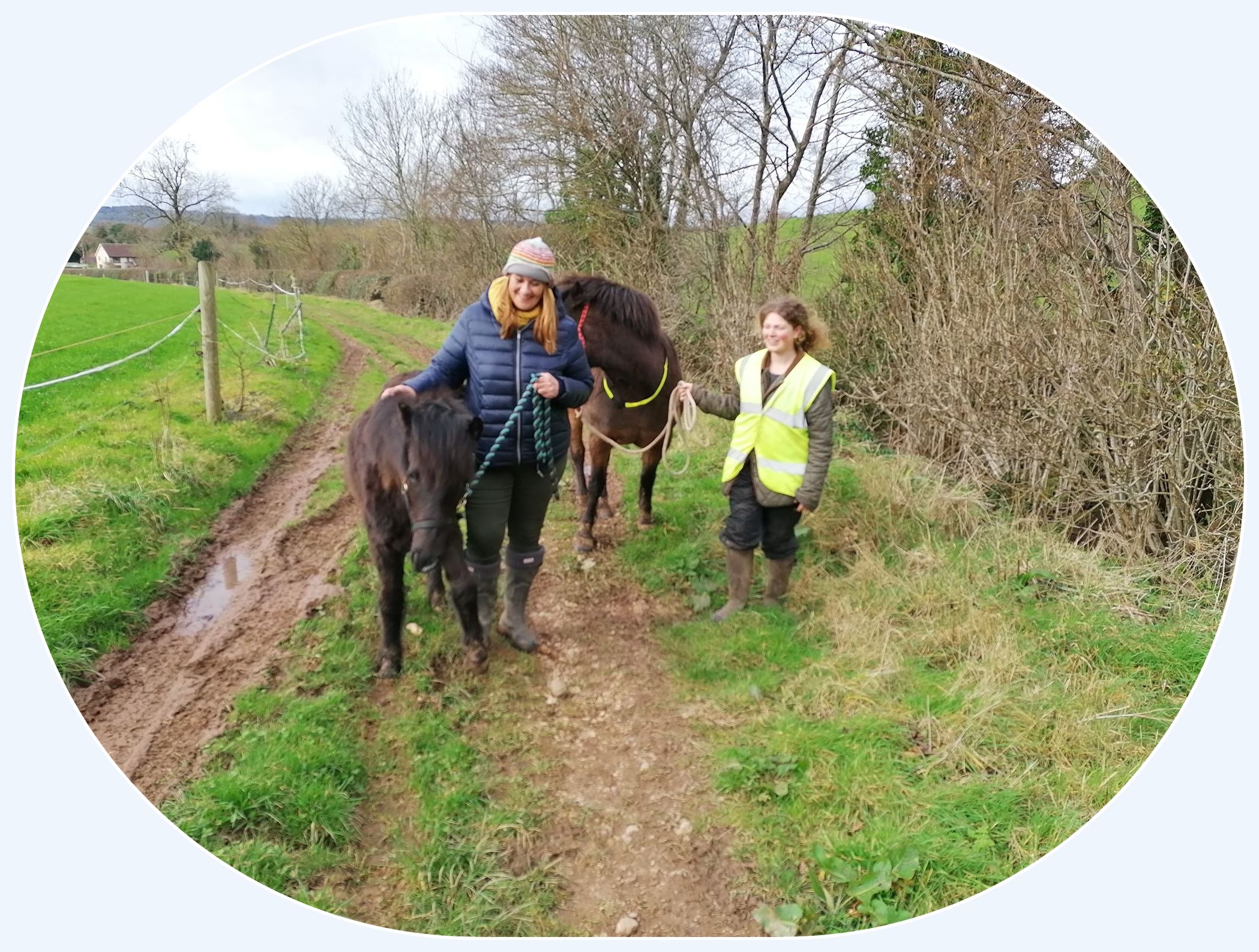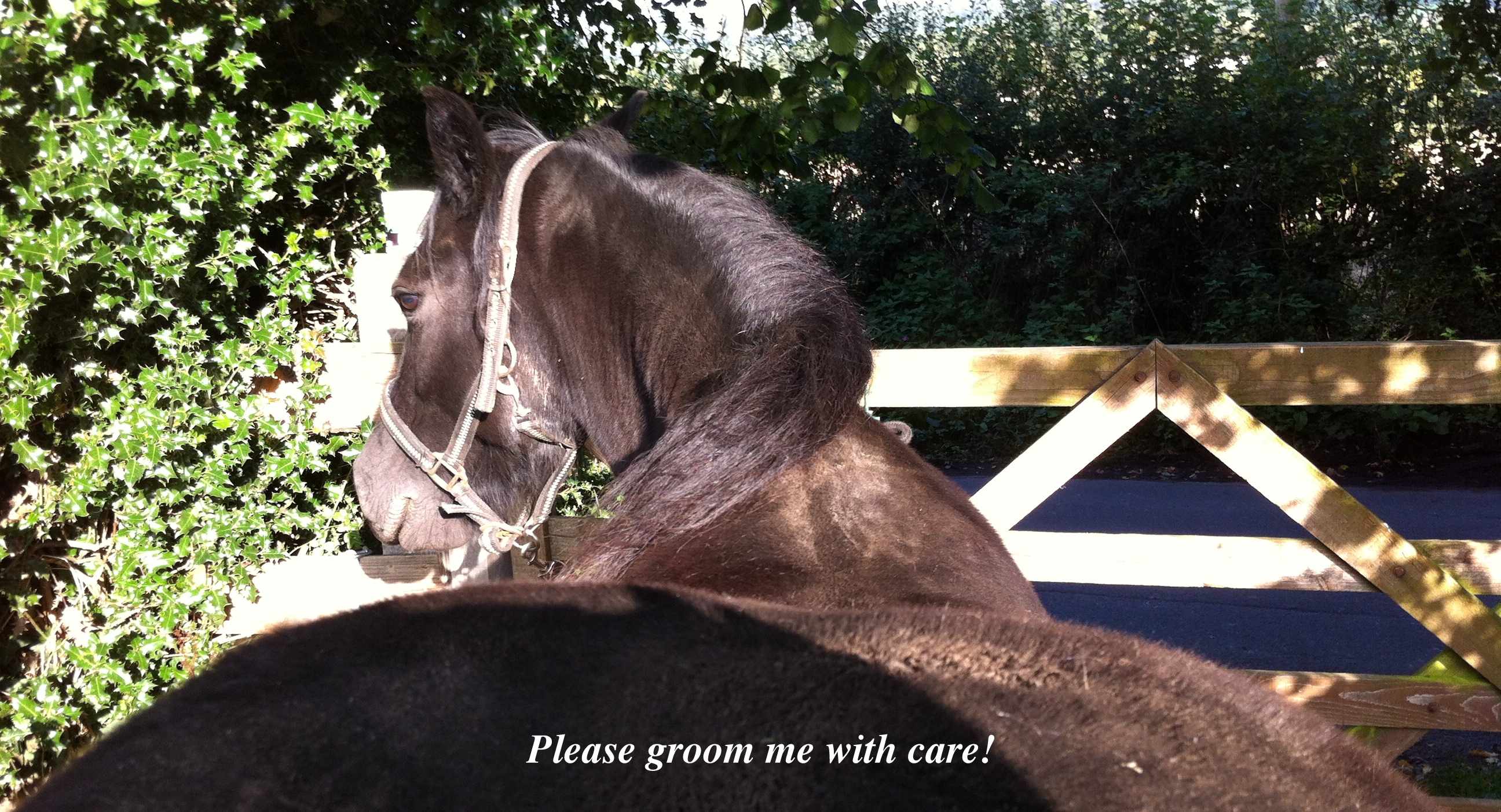 Grooming provides physical and physiological benfits;
- The rubbing and brushing promotes optimal coat quality
- Tick and parasites can be discovered and removed
- Loose hair can be removed
- The skin and muscularture benefit from massage
- Circulation is improved
- Pre exercise grooming is a good warm up exercise
- Post exercise grooming is a great cool down
- Behavioural changes can be spotted and noted
Grooming is an activity which most of us who are involved with horses have some experience of. It is an integral part of any pony club itinerary, and it is something which we have been taught to carry out not just before and after riding, but also as part of any horse-care routine. Why then, is grooming sometimes the first hurdle we fall short at when it comes to nurturing our relationships with our horses
Many times I have watched horses being groomed in a hurry - their owner, getting ready for a ride, hurriedly whisks away the dust and dirt before tacking up. There is sometimes an element of excitement on the human's part with regards to the impending ride. A quick dash through the grooming routine and you will be on your way! After the ride, a cursory sponge over the saddle and girth area for good practice is often as thorough as the post riding groom will get. Time restraints in the winter can exaggerate this, as it can be a race against the clock to ride your horse within the short daylight hours.
The horse gets used to this experience of their human quickly scrubbing their skin and raking through their mane and tail. I understand. I would be lying if I said I haven't done this myself in the past. But I would like us all to take a moment, and consider the horse's perspective of this activity. Lets try to put ourselves in our horses' hooves. Many aspects of horse handling involve a breach of personal space. Horses are taught to put up with us striding into their personal bubble and expecting 100% manners on their part. We forget that 'manners' are a two way dance! With regards to grooming, this is taken a step further. Not only are we intruding on our horses' space, but we are now pulling their mane, scraping their skin, and yanking their tail. We are teaching the horse during this exercise, that we will not listen to their subtle body language, and that we will not consider waiting for consent to touch any area on their body.
While it is important for domestic horses to be confident and comfortable with being handled all over for health reasons, some training regimes take this to the extreme. The horse, who once made it known through subtle communication, learns that he/she may not express their concern as their human approaches an area of discomfort. This leads to them simply tolerating the experience, where before they would got to great lengths to make their concerns known. Conversely, you may come across the horse who tries to tell his/her handler about the pleasant areas they are reaching. The ends in the same result. The handler is too busy to notice these small signs of enjoyment. For them just to stay a little while at those areas and provide some lip curling scratches would make the world of difference to that horse's perception of the exercise.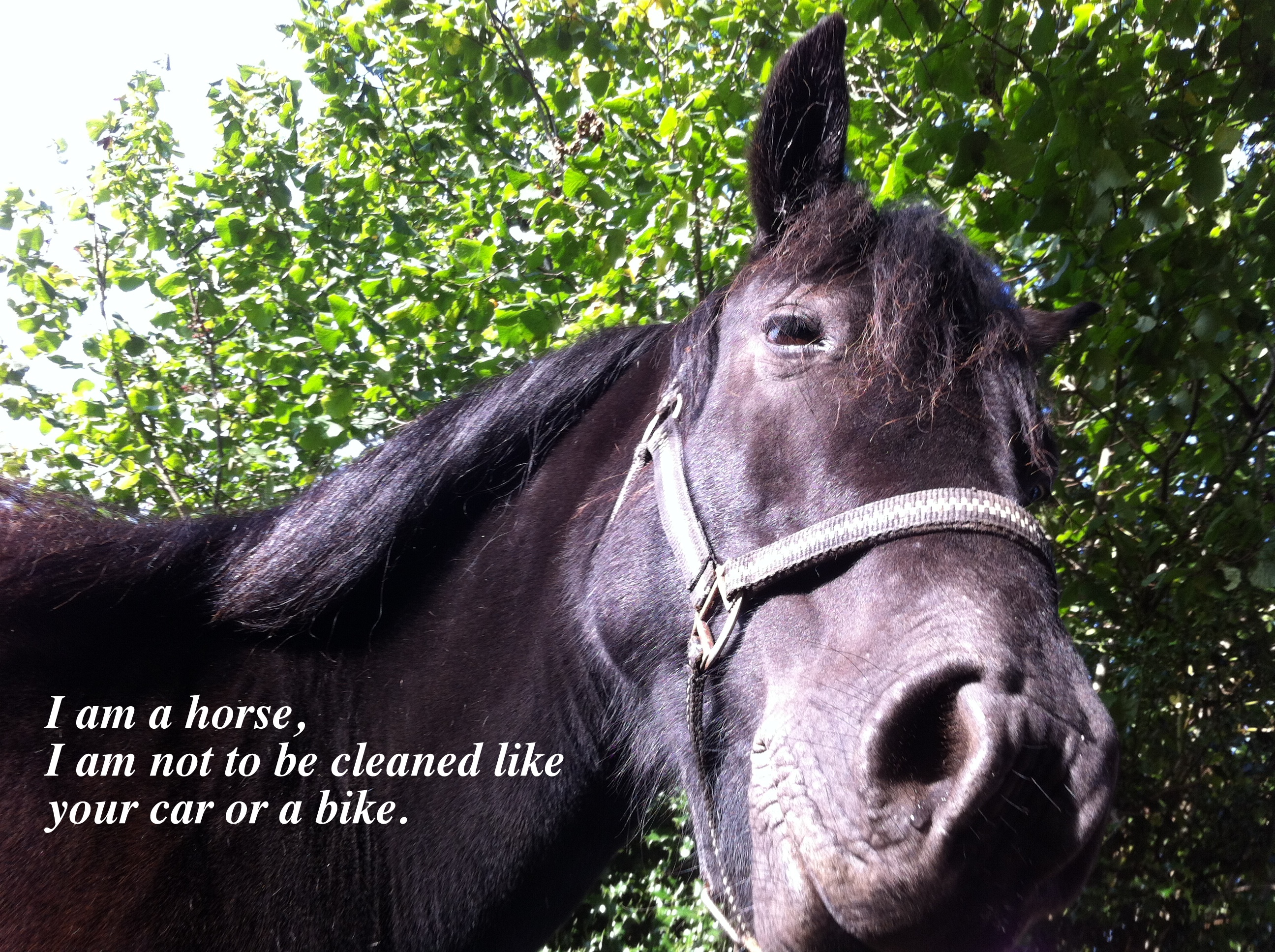 During my research for this blog article, I decided to check out some "how to groom your horse" videos on YouTube. Overwhelmingly, the videos I came across could easily have been "how to wash your car" videos. It was painful to see so many horses trying to communicate favourite grooming spots to their handler, only for them to swiftly move onto the next part of the job, none the wiser about their horse's favourite scratchy area. The handlers are all missing a wonderful opportunity to build the bond between themselves and their horse. Isn't that one of the reasons for a grooming session? It is as far as horses are concerned. Mutually grooming is often a pleasurable shared activity between two close equine friends.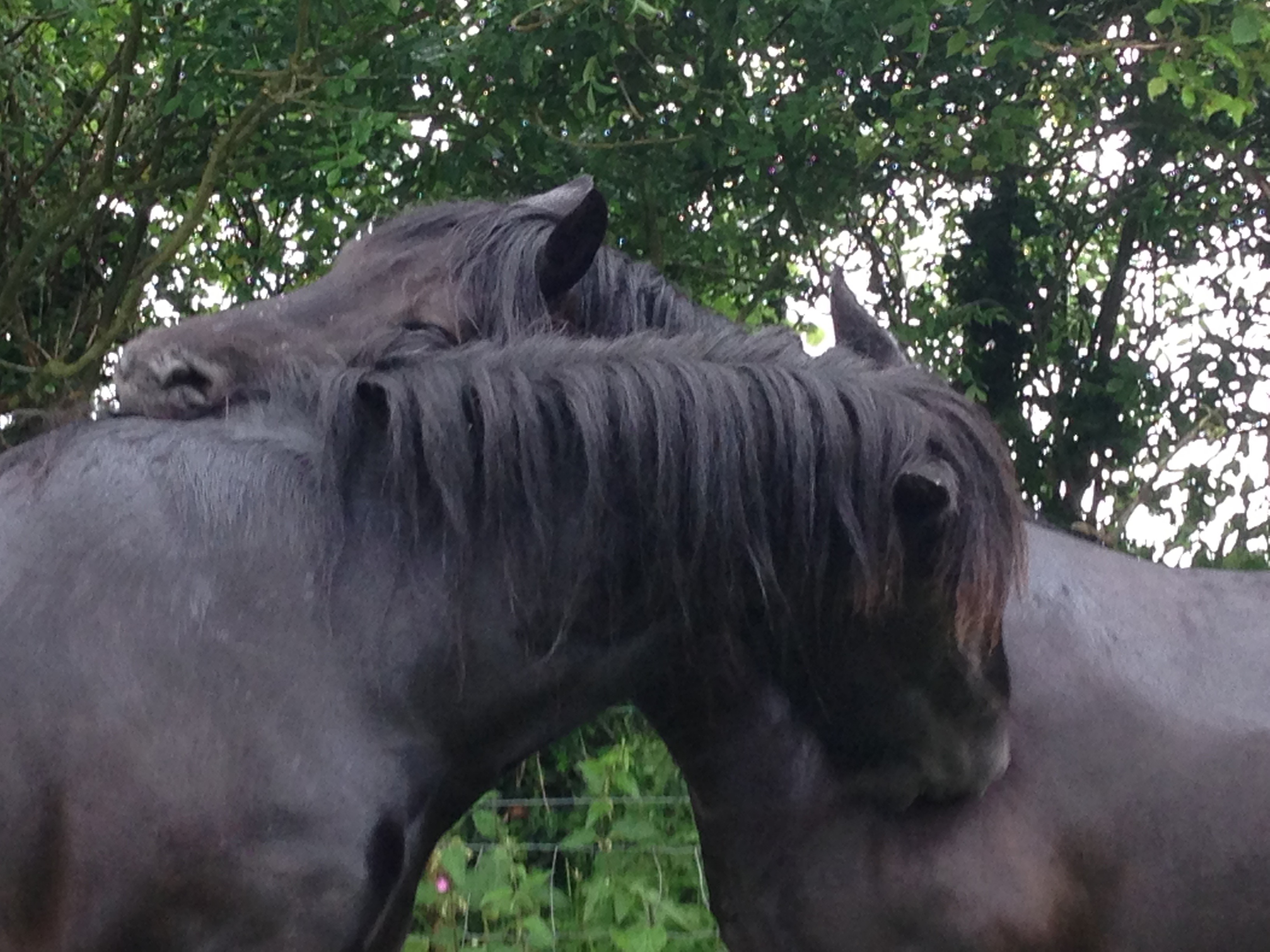 "When a horse (either by itself or with the help of others) is rubbed, scratched, or groomed it oftentimes exhibits behavioural evidence that intense pleasure is occurring. The expressions of sensual pleasure are characterised by the extension and action of the upper lip [see picture below]. The eyes orient laterally and may close slightly; usually the ears are up. As the tactile sensations continue the upper lip extends more and more and twitches rapidly. If the upper lip contacts something, the object is rubbed using the quivering lip. The nostrils do not dilate but shake in conjunction with the active upper lip. The head extends somewhat and may turn to one side. Heavy breathing, groans, and leading toward the stimulation may also occur."
- Horse Behaviour, Second Edition - G H Waring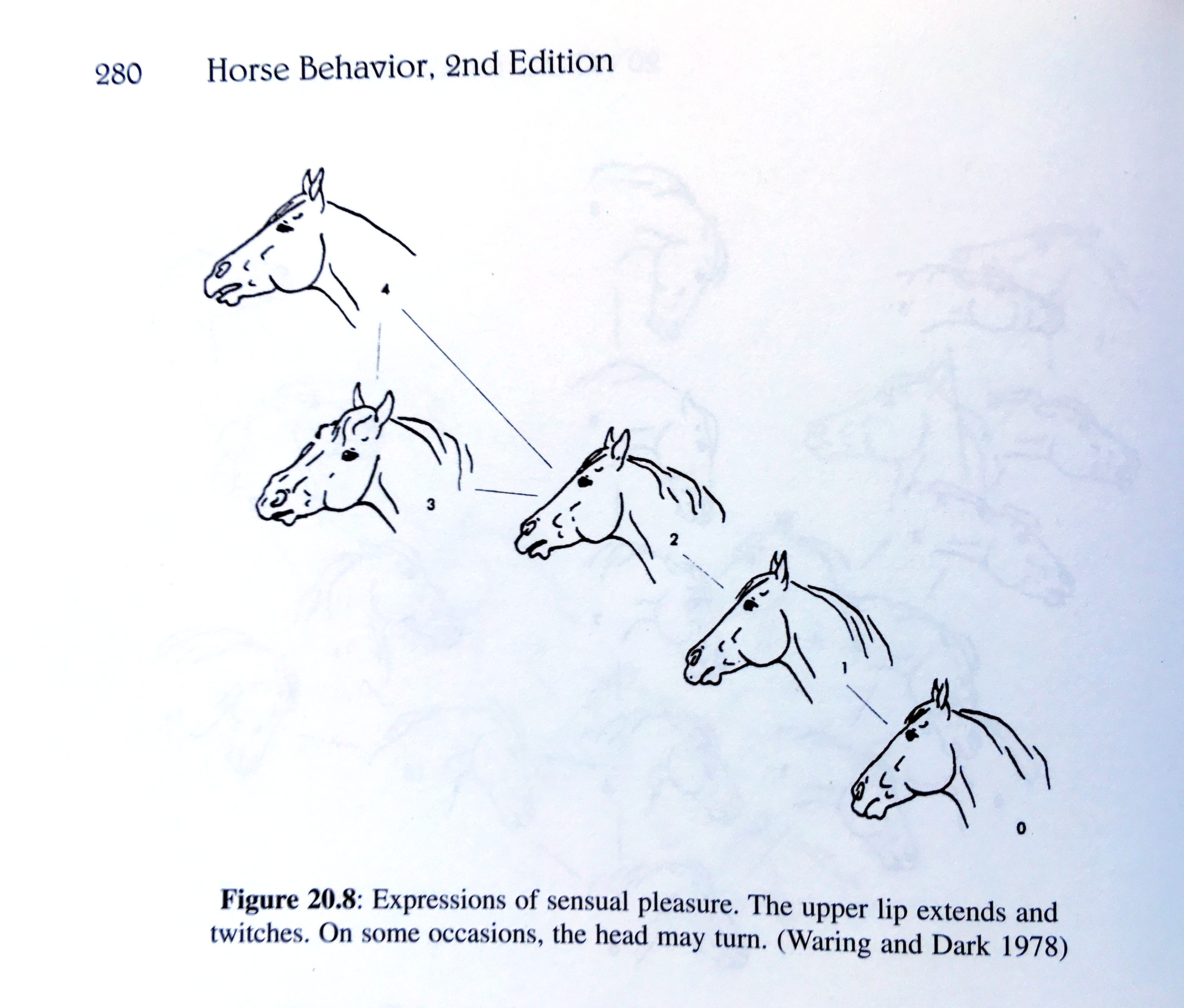 "At one time scientists considered mutual grooming only a way of getting out-of-reach itches scratched - get a friend to do it and return the favor. Today it seems more significant. Mutual grooming also serves an important function; it establishes and maintains social ties."  
- The Assateague Ponies - R. R. Keiper
As stated in the above quote, mutual grooming establishes and maintains social ties between horses. Surely we could be using grooming as a way of establishing and maintaining a meaningful horse-human relationship too? For me, this is absolutely invaluable, and is an important message for all horse-handlers to take on board. If you are a horse owner who regularly grooms your pony, think about what kind of experience you are encouraging in your equine friend.
The time spent slowing down your grooming and taking note of your horse's responses may well shorten your riding time initially. The time gained through a solid foundation of trust and a firmer relationship however, makes up for this tenfold.
We all need to slow down at times anyway, so approaching this activity with more consideration and a slower approach, you will likely be doing yourself a favour as well. 
In the picture below, Spirit is being very carefully introduced to a cool sponge bath on a hot day. She treats this with some trepidation, and her handler is using positive reinforcement and a very slow, quiet approach. She watches her body language and waits for cues from Spirit to tell her how to proceed. Spirit is also free to leave should she wish to. This situation is one example of a different approach to grooming. Spirit, who is a traumatised mare, is encouraged to choose to take part. Through taking this approach, we enter into a contract where we need to honour her choice should she say "no" on that particular day.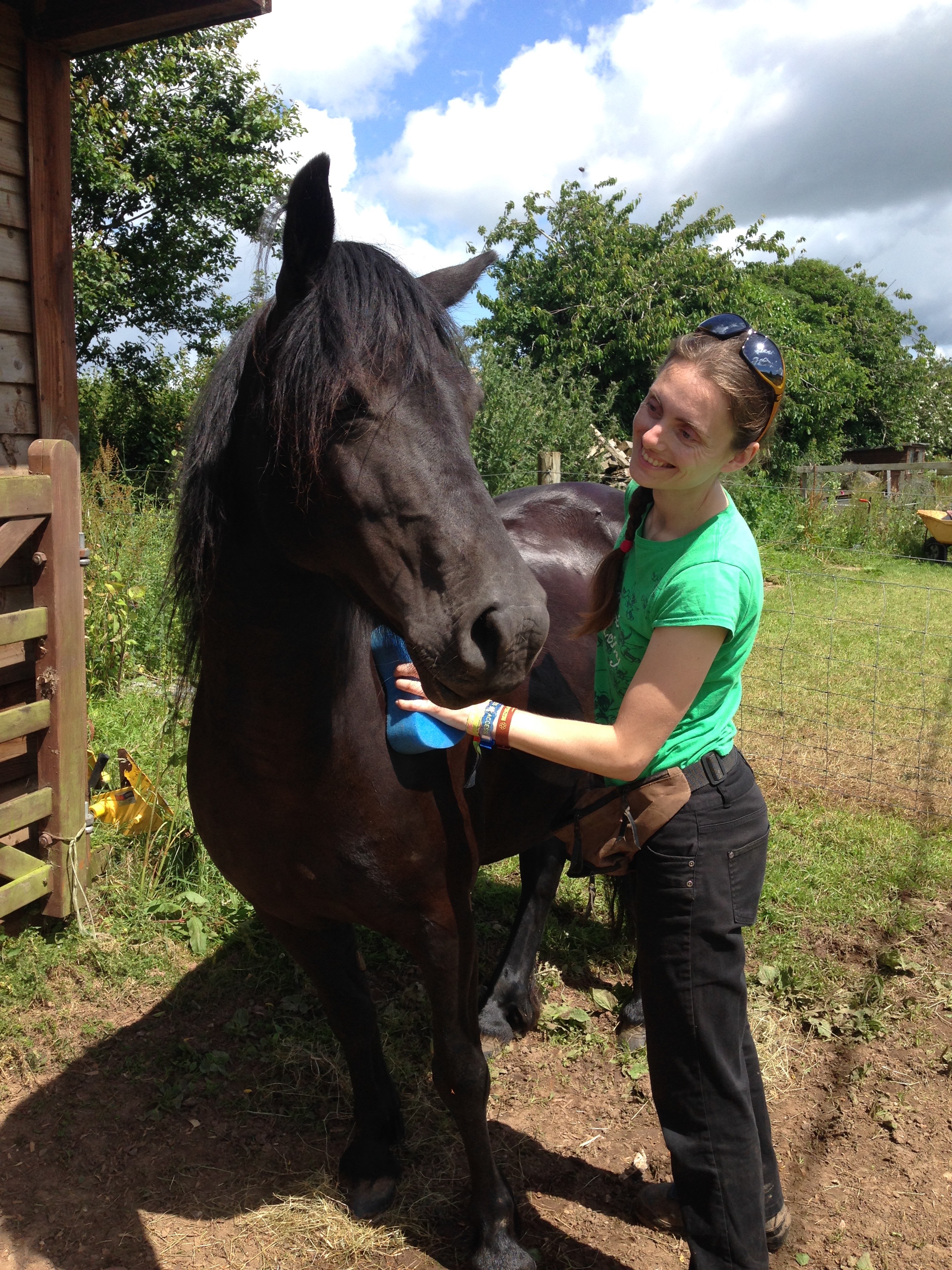 I realise that the above situation may be trickier to set up in come circumstances. Spirit is a non-ridden equine, and we don't have any time constraints or agenda to stick to. It is certainly possible though, to at least resolve to be watchful of your horse's responses during the grooming process, and then make the necessary adjustments. Creating a physical gesture as you approach each part of the horse can help. This gesture could non-verbally say, for example, "I am moving onto your neck now, okay?" Opening up the lines of communication is not only polite, it also encourages safety, as the horse and their human then have a clearer understanding of each others' intentions. 
If you are uncertain about what your horse is saying through their body language, I recommend checking out the Ladder of Fear information on the Equine Behaviour and Training website. This also includes some excellent  demonstrative videos. 
Turning grooming into a pleasurable experience for your horse (and for you!) creates an invaluable foundation which will extend to other elements of your partnership as well.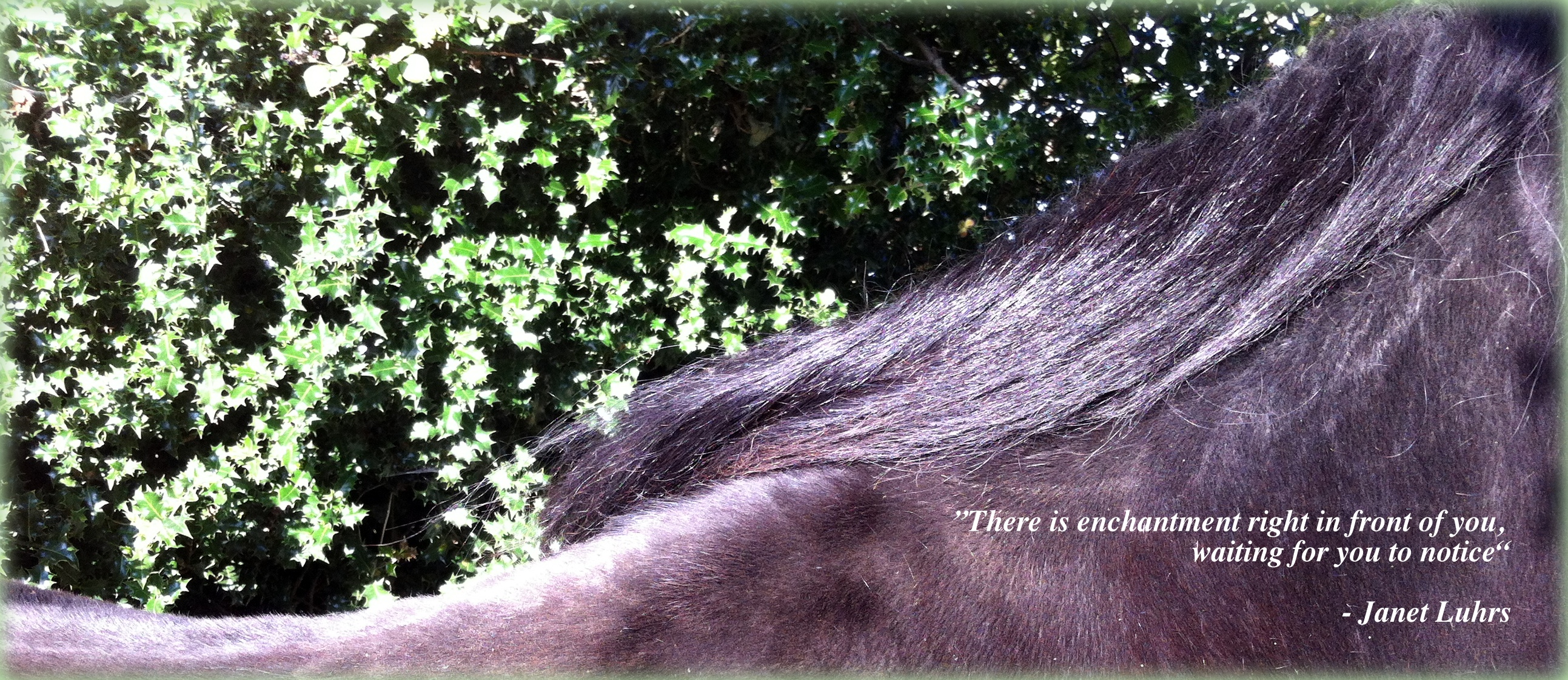 I have just finished reading "The Little Book of Hygge", by Meik Wiking, the CEO of the Happiness Research Institute in Copenhagen. Here is an excerpt about his book:
"The Danish word hygge is one of those beautiful words that doesn't directly translate into English, but it more or less means comfort, warmth or togetherness.
Hygge is the feeling you get when you are cuddled up on a sofa with a loved one, in warm knitted socks, in front of the fire, when it is dark, cold and stormy outside. It is that feeling when you are sharing good comfort food with your closest friends, by candle light and exchanging easy conversation. It is those cold, crisp blue sky mornings when the light through your window is just right.
Denmark is the happiest nation in the world and Meik puts this largely down to them living the hygge way. They focus on the small things that really matter, spend more quality time with friends and family and enjoy the good things in life. The Little Book of Hygge will give you practical steps and tips to become more hygge: how to pick the right lighting, organise a dinner party and even how to dress hygge, all backed up by Meik's years' of research at the Happiness Research Institute in Copenhagen.
This year live more like a Dane, embrace hygge and become happier."
As I began to read this book, I was quite pleased to recognise that I have always welcomed an element of hygge (pronounced "hoo-gah" ) into my life. From my desire for ambient lighting, to my preference for smaller and more intimate gatherings, to my very well established love of hot drinks and the smaller pleasures in life. I'm not too bad at looking after myself when push comes to shove, and that element of hygge has saved the day on a number of occasions.
Over ten years ago I moved to East Devon with a partner. We bought a caravan together for £200, and we were ready to face our futures together. Unfortunately, the relationship came to an end after a year in our caravan. With my elderly horse, Bobby, living on the same farm as the caravan, plus a college qualification to complete, I was staying put. But living alone in a small and thin-walled little bubble, can be a very different experience. With my course to complete, and the wounds from a relationship breakdown to heal, I could have caved into the pits of despair. I remember seeking solace with Bobby. My face pressed into his thick coat, and my arms wrapped around his neck, I would breathe in deep that unmistakable aroma of horse. I would feel my pulse lowering and my worries and fears slipping away. Bobby's wonderful, big, friendly character in the shape of a snuffley muzzle, floppy mane, big and black but greying body, was all I ever needed to collect my thoughts and gain a more grounded perspective. Thanks to him, I could carry this perspective back with me into my little home, and then cultivate a cosiness that anybody would be proud of. I would fill my space with the company of music, or even sort out old clothes and do fancy dress in front of the mirror. I had nostalgic nights reading through old diary entries or looking through photographs… I remember a remarkable evening of preparing a candlelit meal for myself while the caravan was wrapped in a whirlwind of gales. That was a hyggalig (hoo-gah-lit) time.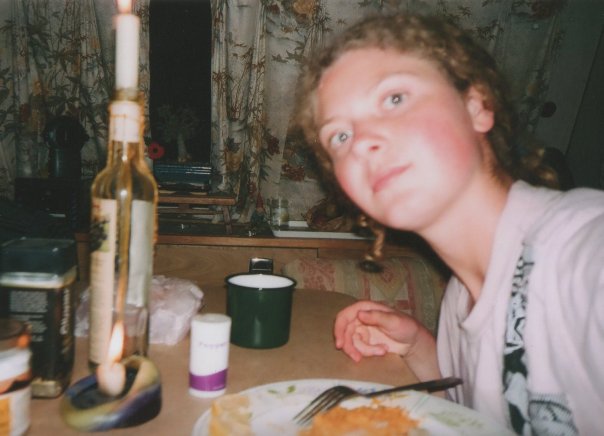 All of this was a restorative means of nurturing myself. I've worked on this over the years, and apart being down on hygge points for my minimal use of candles (I fear I may be too forgetful and set fire to the place!), I would say i'm not too bad at the art of getting my hygge on!
So what has this got to do with horses? The hygge manifesto, put together by Meik Wiking, calls for us to really be present in the moment and fully engage with life. By achieving physical comfort, connecting with others, being grateful and creating a beautiful atmosphere, we can achieve hyggelig feelings. These are feelings of security and contentedness which arise from your sensory experiences. If you are a passionate horse lover and are reading this blog, you will be familiar with experiencing those feelings during certain horsey moments. Many sounds can be hyggelige. I am sure I'm not the only one who has deeply enjoyed the sound of horses slowly eating through fresh hay, perhaps in a large barn with the weather raging outside. This sound is especially satisfying if you are the one who provided the hay. May be you spent a while beforehand mucking out, wheeling the barrows of muck through driving wind and rain, then bedding up the area with a fresh and appealing soft surface of shavings or straw. The jobs of checking water troughs, tending to each individual horse, and then fetching large quantities of forage all led up to this moment- The moment where you can stop, relax, and listen to the satisfied sound of animals enjoying food, shelter, and company. 
I believe that a meaningful time with our horses - and other animals too - contains all of the ingredients of hygge. We can learn from our animals to protect ourselves from the alluring modern attitude of rushing towards our future without learning from the present. As we take this lesson on board, perhaps we can start to be more present in all of our interactions, fully immersing ourselves in the here and now.
We can actively craft the right atmosphere with our horses, setting the scene first. Just like picking exactly the right ambience of lighting to set the mood at home. I want to create an environment where my horses are content in each others company and have had all of their basic needs catered for in order to then be able to turn their attention to learning more and indulging their natural sense of curiousity.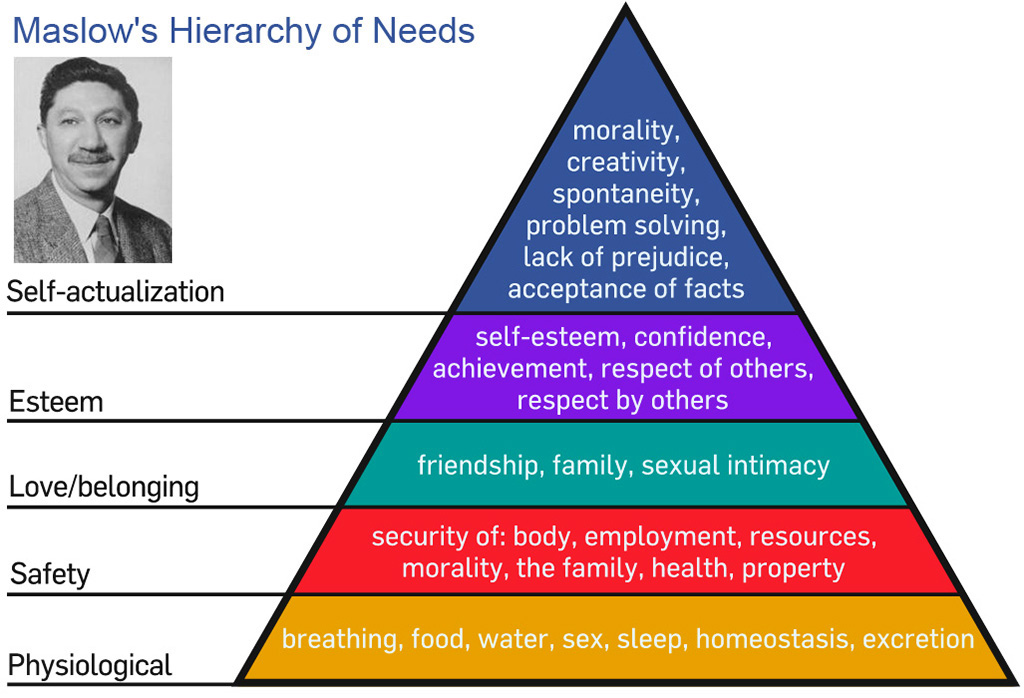 Hygge fosters a special way of being with your loved ones. There is an intrinsic link between relationships, hygge and happiness, which should be cultivated in our relationships with our horses as well. In 1943, the Russian-American psychologist Abraham Maslow developed a model called the pyramid of human needs and the theory that we must fill our needs from the bottom to the top of this pyramid. At the bottom are the physiological; food, water, sleep. These elementary needs must be met before we can see to security and safety (sometimes linked in with the elementary needs), and then to our social needs - the need for love and belonging. Without having these needs met we cannot move on to building our self esteem and self actualisation. For horses, I would go as far as to say that we can follow a very similar model. They have a need and a right for those same basic needs to be met, plus the second and third steps safety and of love and belonging. These needs should be met in a species-specific environment where horses have others of their kind who they can rely on to fulfil their social requirements. Only when these needs are fulfilled can we ethically begin to ask our horses to interact with us in ways which are not actually necessary for survival. When we carefully build on our horse-human relationship in this way, some of the extra activities we want to bring to the table can actually be of benefit and interest to our equine friends. For me, this might start with teaching problem solving games and confidence building activities using positive reinforcement. After this I might eventually begin to involve some riding out or walking out in hand as extra enrichment and exploration opportunities.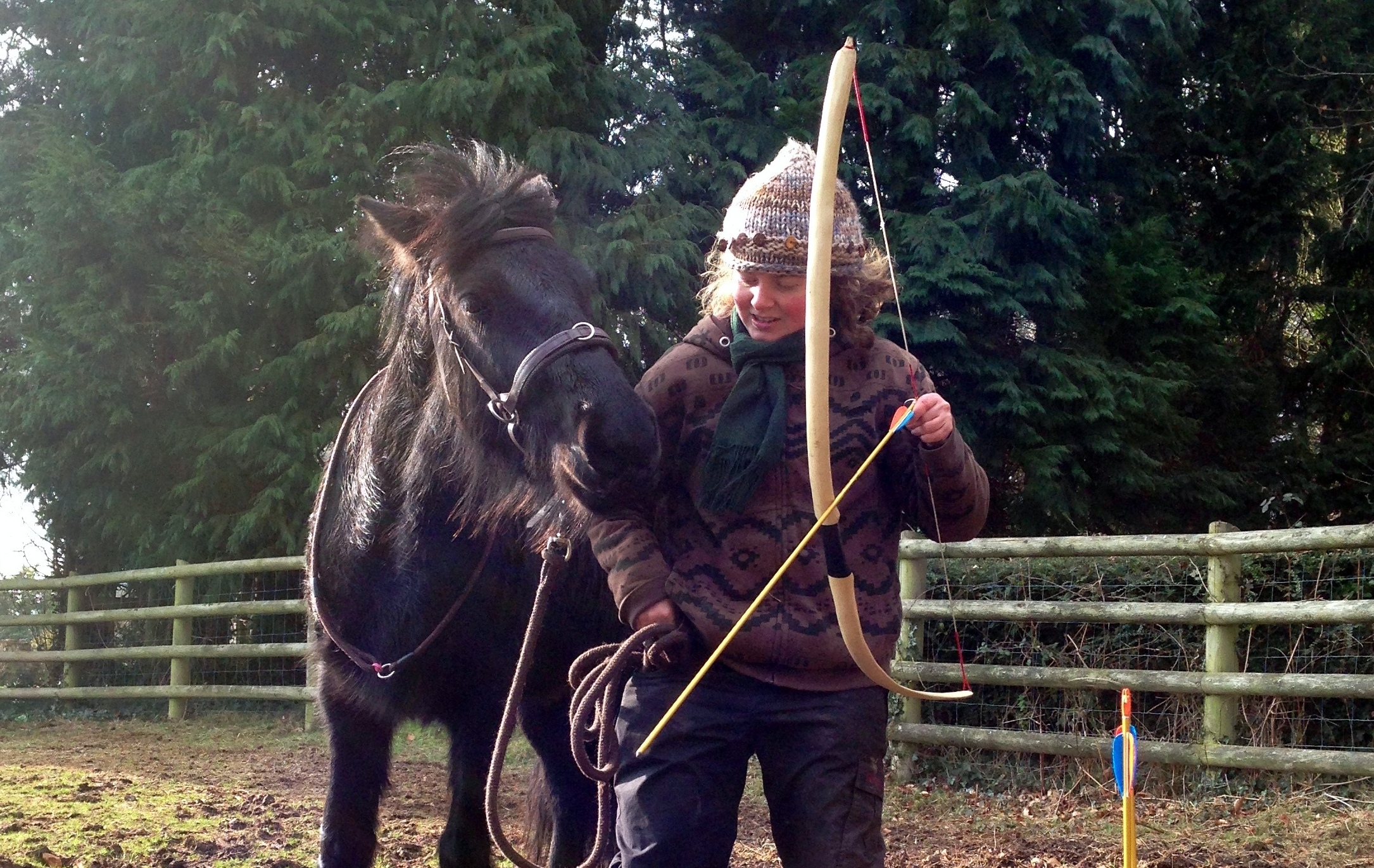 Some horses initially need to learn that they can let their guard down and experience pleasure and comfort in our presence. I have a nice video of the ponies relaxing in the mid morning sun. When I quietly approached the three of them, Ash, who is new to the group, briskly stood up to attention. I sat down next to Skylark and began to focus on mindfulness and meditation for ten minutes. During this time, Ash realised that he could lay back down and continue to enjoy his morning snooze. We can only speculate on the experience of any living being in comparison to ourselves, but I imagine that just like I was, they were feeling the beating of warming sunshine on their backs, and the sensation of a cool breeze to compliment this warmth. That is a feeling of hygge.
Ash may experience this feeling when he is with his herd mates, but is a little more on edge with humans, due to past prior experience of human interactions requiring him to do something, rather than just to 'be'. Over time, horses can learn to relax and indulge in those simple pleasures life has to offer, even when their humans are about. 
Other simple pleasures which horses can be introduced to are the enjoyment of human touch and of the mutual benefits of inter-species interactions. This also puts us at an even level to each other. To learn how to give over control can be a lifelong teaching for some of us. Of course there are times when it is important that we are the decision makers in certain situations, but to open up a dialogue and introduce some compromises can be incredibly empowering for our horses, ourselves, and for the horse/human relationship. This encourages a form of harmony which we only imagined could be achieved.
There is a calmness of spirit which can and should be cultivated if you want to introduce more hygge into your time with horses. Through this calm attitude we can make more progress together in a drama-free environment. Keeping this mindset also enables us to be more mindful of subtle cues and signs in our horses body language that they are still on board and comfortable with whatever activity we are taking part in.
The calmness and harmony we are encouraging in these moments is so valuable to both us and our animals. When we experience this we should be very grateful. I have stood in the ponies field, unscrewed the lid of my flask, poured myself a cup of my favourite tea into my favourite mug, and thought, "This really is as good as it gets."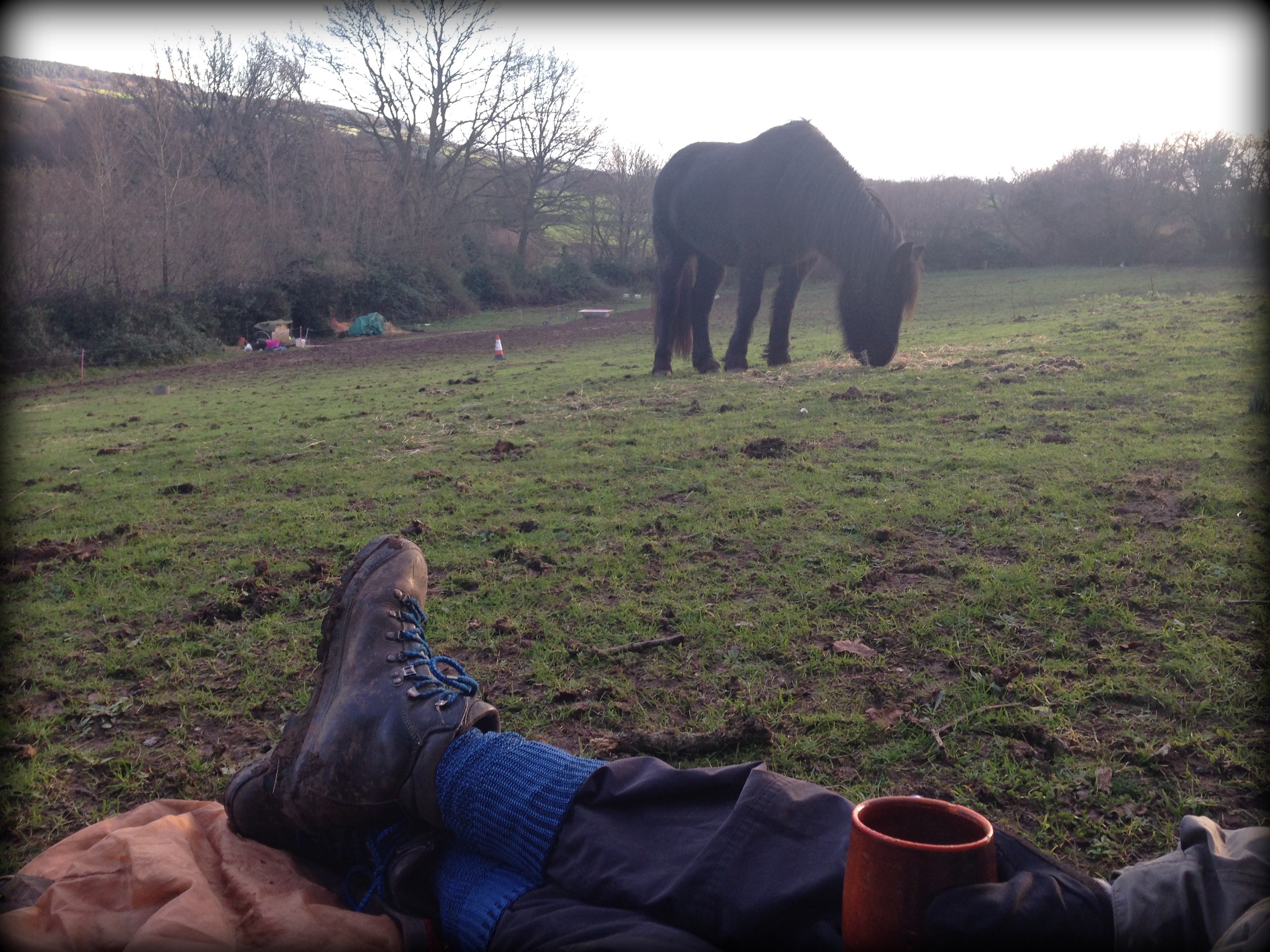 It is worth remembering that we can't always remain in a state of hygge. When you work hard to bring in the money to be able to cater for all of your horses' needs discussed above, it cannot always be a life of cosiness and comfort. But it is only through some stress, toil, turmoil and all that is anti-hygge, that hygge can be truly valued. Just as through experiencing sadness we might develop a deeper sense of the meaning of happiness.
After a whole day of physical exertion out in nature and with other animals, there comes a time when we need to go home and relax. Not much beats the hyggelig feeling of getting home, donning a pair of slippers, then putting your feet up on the sofa after a full day out in the fresh air with the horses. In my case the cat quickly intalls himself on my lap as well, purring like an engine. There is a feeling of satisfaction and accomplishment as you settle down into a comfort which is so much sweeter when you are physically tired from a full day. 
As you rest on the sofa you can nostalgically recount the memories you have collected through hours of outdoor adventures. Whether it is through early starts leading to exhilarating days at horse shows, a quiet day of picnicing and mutual grooming with your non-ridden equine friends, or whether it is through long trail rides up hill and down dale. Those moments are times when you, your horse, and likeminded folk are making the most out of life.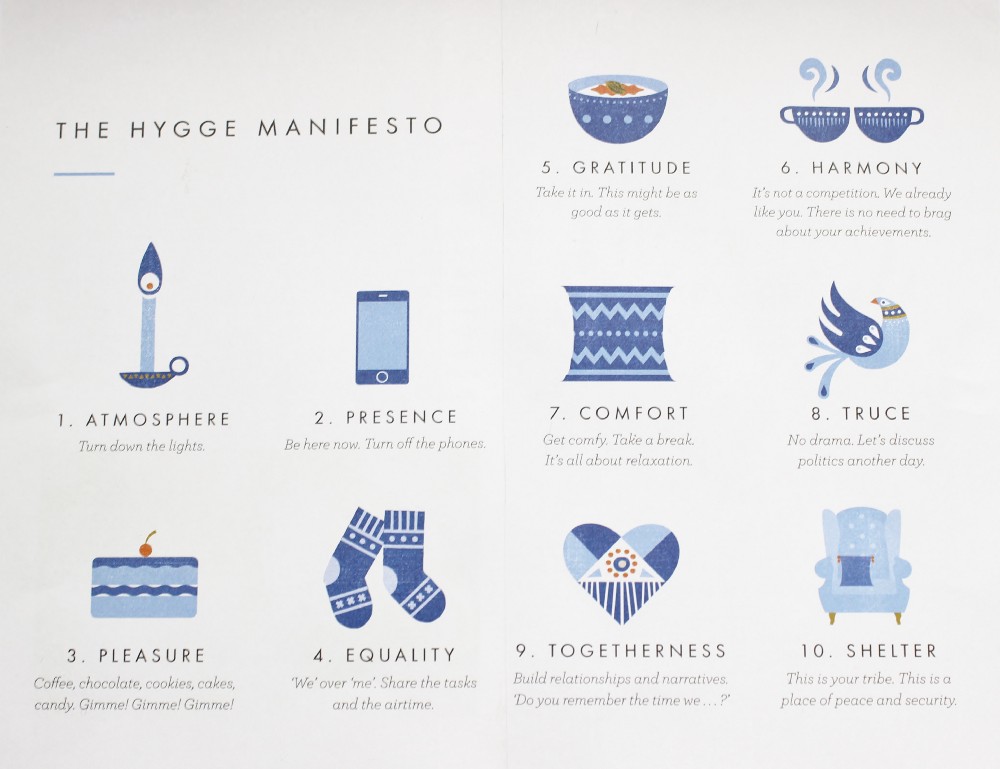 References: "The Little Book of Hygge - The Danish Way to Live Well" By Meik Wiking 

There are plenty of equines and their handlers out there who would benefit from assistance from a behaviourist. There are however, a mind boggling amount of routes you can go down in dealing with your equine's behavioural issues. There is so much choice available as to how to deal with 'problem' behaviours. In the maze of options, it ends up coming down to what you are most attracted to, for whatever reason that may be. Sometimes though, it becomes like the menu with too many options - you end up floundering, confused, and eventually pick something that you could probably have made for yourself at home. Or, you pick something which sounds incredible, but in reality does not live up to the description. This is often the case with training methods consisting of clever showmanship and a lot of 'magical connection'. Beware of the smoke screens and mirrors involved in these training methods, as all is not as it may appear.
Wouldn't it be deflating and downright depressing, if you were then told that what you were seeing could be conditioned suppression, learned helpless, or a long string of thoroughly ignored calming and appeasement signs from the horse? 
What are calming signs? Calming signs are small gestures submitted by one animal to another in a bid to avoid conflict, minimise aggression, or simply just asking to tone down the mood. These can often be seen in our interactions with horses. Some of these are; looking away, having lateral ears, yawning, stretching down, shifting weight away from the source of tension, empty chewing, licking and chewing, itching an imaginary itch, or displacement eating. If I look through my collection of photos of me and my ponies, I am afraid I can find a large number of calming signals which I clearly hadn't identified at the time. This is why it can sometimes be quite surprising to learn about these signs. It may be a little upsetting to learn that your horse was trying to tell you something and you haven't noticed it all this time. Especially if you are a keen animal-person and perhaps pride yourself in listening to those animals in your care.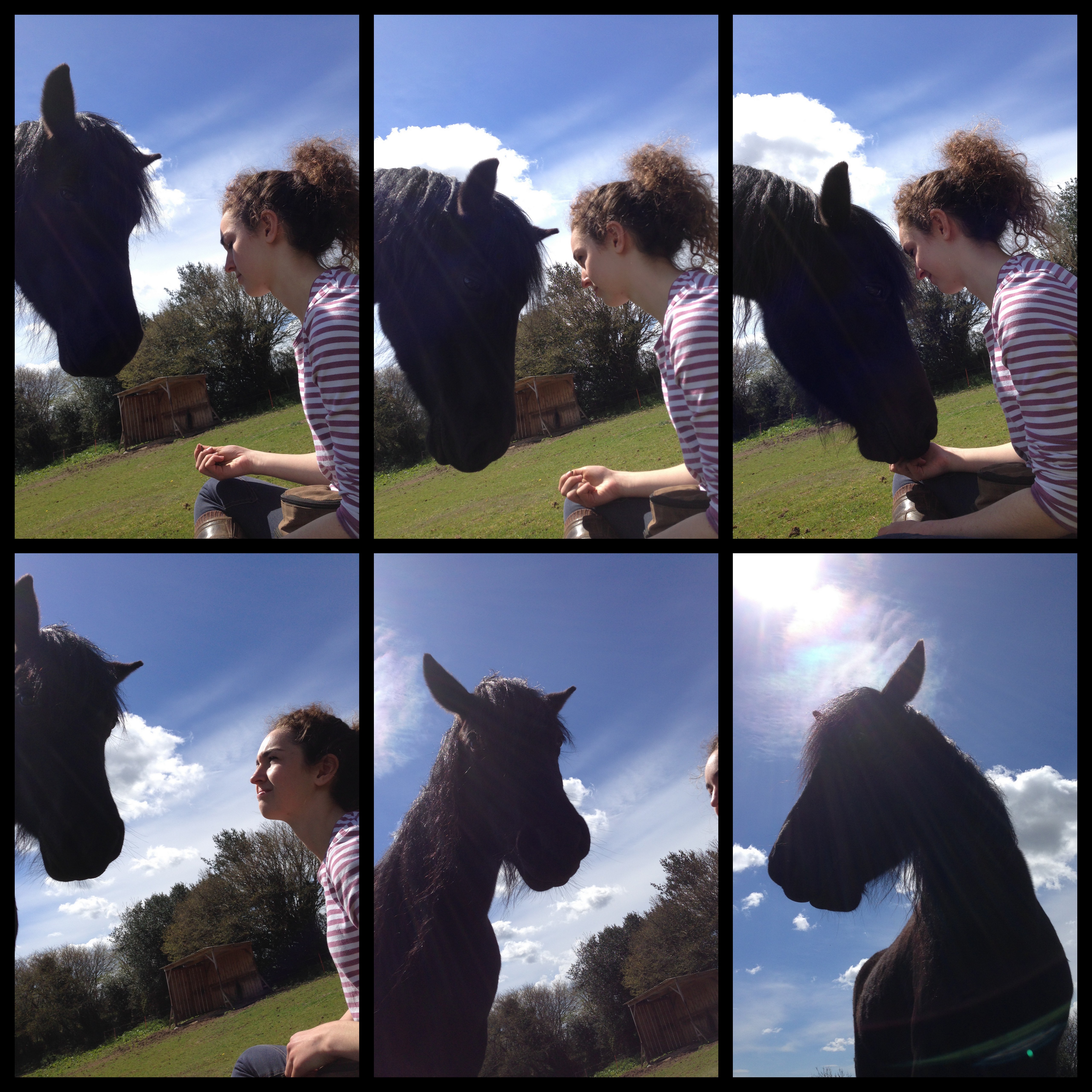 In the above series of pictures you can see my sensitive mare, Spirit, meeting a friend of mine who is sitting down to be less of a threat (note: obviously common sense and caution should be taken when sitting down around horses). You can see a number of expressions through this series of pictures. Initially she is inquisitive, and is motivated to investigate this human who may or may not be a threat. She has tension in her chin, which unfortunately is often the case for Spirit during any interaction with humans. She always has one ear on the person, and is attentive to her every move. In the second to last picture she is displaying lateral ears, as she is considering the best action to take in this situation. Next, in the last picture, she increases the distance between her face and the person and turns her head right away and to the side. If my friend was to ignore these signs now and perhaps stand up and attempt to stroke Spirit, Spirit would most definitely move away. By listening to these signs and reducing the intensity of our actions, we begin to enter into a more subtle and pleasant dialogue between human and horse. Through listening to these smaller signs and acting accordingly, we can affect change. The horse has the ability to develop in confidence at her own pace, and therefore steadily and surely. 
This gets complicated though, because many training methods actually identify calming signs as a good thing, usually meaning that the horse is "processing information", or even meaning that the horse is very relaxed. As a massage therapist, I do indeed notice some yawning, long blinks, and licking and chewing behaviour for example. It is important to note the context however, and look at the entire sentence. By that I mean that when the horse I am treating is showing plenty of other signs of relaxation, such as a flexed back leg, a drooping bottom lip, and a lack of tension around the eyes, I really can then deduce that the yawning and licking and chewing is, in this case, a part of that horse's relaxation. This is essentially, re-balancing of the autonomic nervous system. This does not however, mean that every time a horse licks and chews, they are relaxed, or 'processing information'.
In the above video, my mare, Skylark, is clearly relaxed after a massage treatment. Note her drooping, slightly quivering lips, her eyes closing, with no signs of tension around the eyes, and her neck and head gently nodding downwards. 
So if licking and chewing can mean tension and anxiety, relaxation, processing of information, or simply a dry mouth because she needs a drink, where does that leave you in your own dialogue with your horse? My thoughts are that if you go ahead and learn more about learning theory and ethology of the horse, then you will have the tools to understand his/her language more comprehensively. This opens up so many doors, and in my opinion, is where a foundation of connnection and trust can be built. By paying attention to this language, it is incredible what you can learn from your horse. By truly giving them a voice, allowing them to be heard, you open the door to some magical horse-human moments.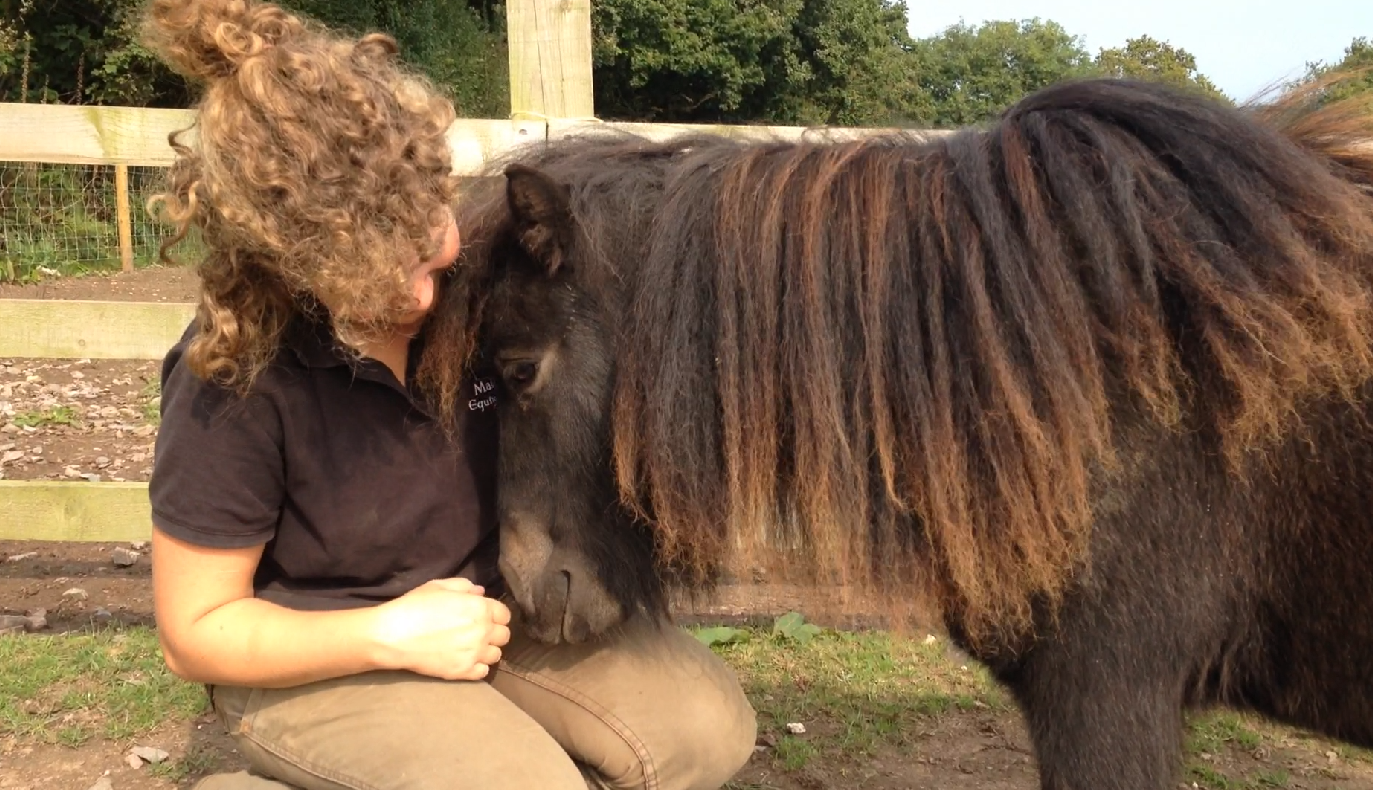 Me and Bracken, a nervous pony at Munchkins Minature Shetland Rescue Centre.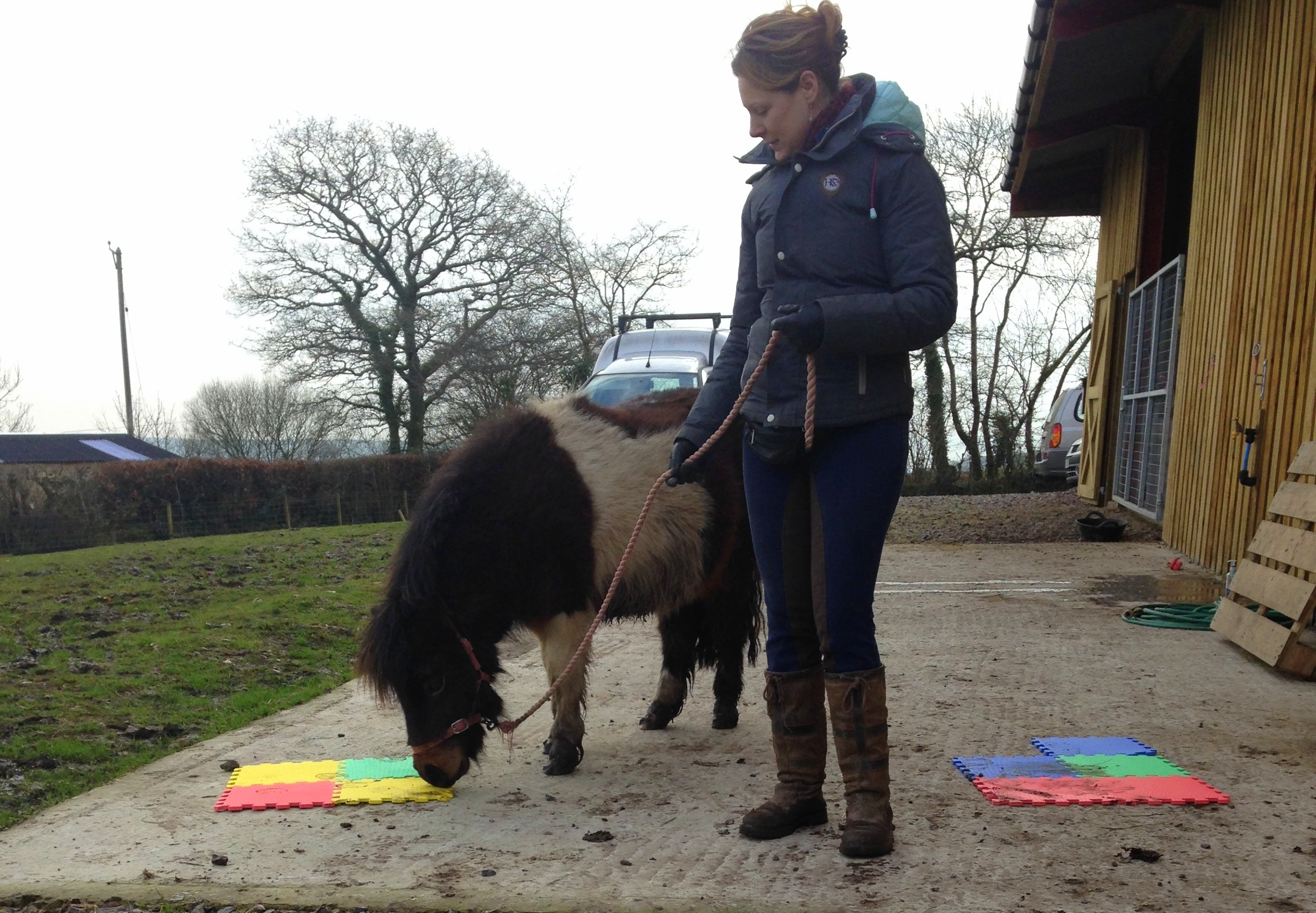 Toby at Munchkins Miniature Shetland Rescue Centre meeting new objects and surfaces during a confidence building session.
We have touched on the 'magic', what about the many horsemanship myths out there? Again, the equestrian industry is steeped in myth, which, little by little, science is able to bust through.
Behavioural scientists might not be as glamourous as show-men and glitzy horse trainers, but they have dedicated their profession to evidence based research, which is a noble task in a time when you can find counter-arguments for anything by an internet search!
I am not going to spend this article writing out each of the equestrianism myths I can think of - I wouldn't want to waste the time of you, the reader! Again though, I would urge you to look at the horse as a whole, and whether your ideas are coherant with what the species is all about. Here is one very common equine myth: You have to dominate your horse to be his leader. Please check out the EBTA article here if you'd like to look into that subject in more detail.
Both traditional horsemanship, natural horsemanship and spheres in between have used dominance and hierarchy some of their core principles. These ideas are flawed, but they do say a lot about human beings as a species. After all, it is true that what you are looking for, you will surely see!
So what are we looking for when we seek out a connection with our equine friends? If we looking to understand them as a species and develop a powerful inter-species connection, how is the best way to attain that? Rather than following anecdotal evidence or centuries of tradition, I would say a far braver path would be to "take the reins" so to speak and learn the basics of equine ethology to be able to recognise for yourself what your horse is telling you. That is when the magic really begins.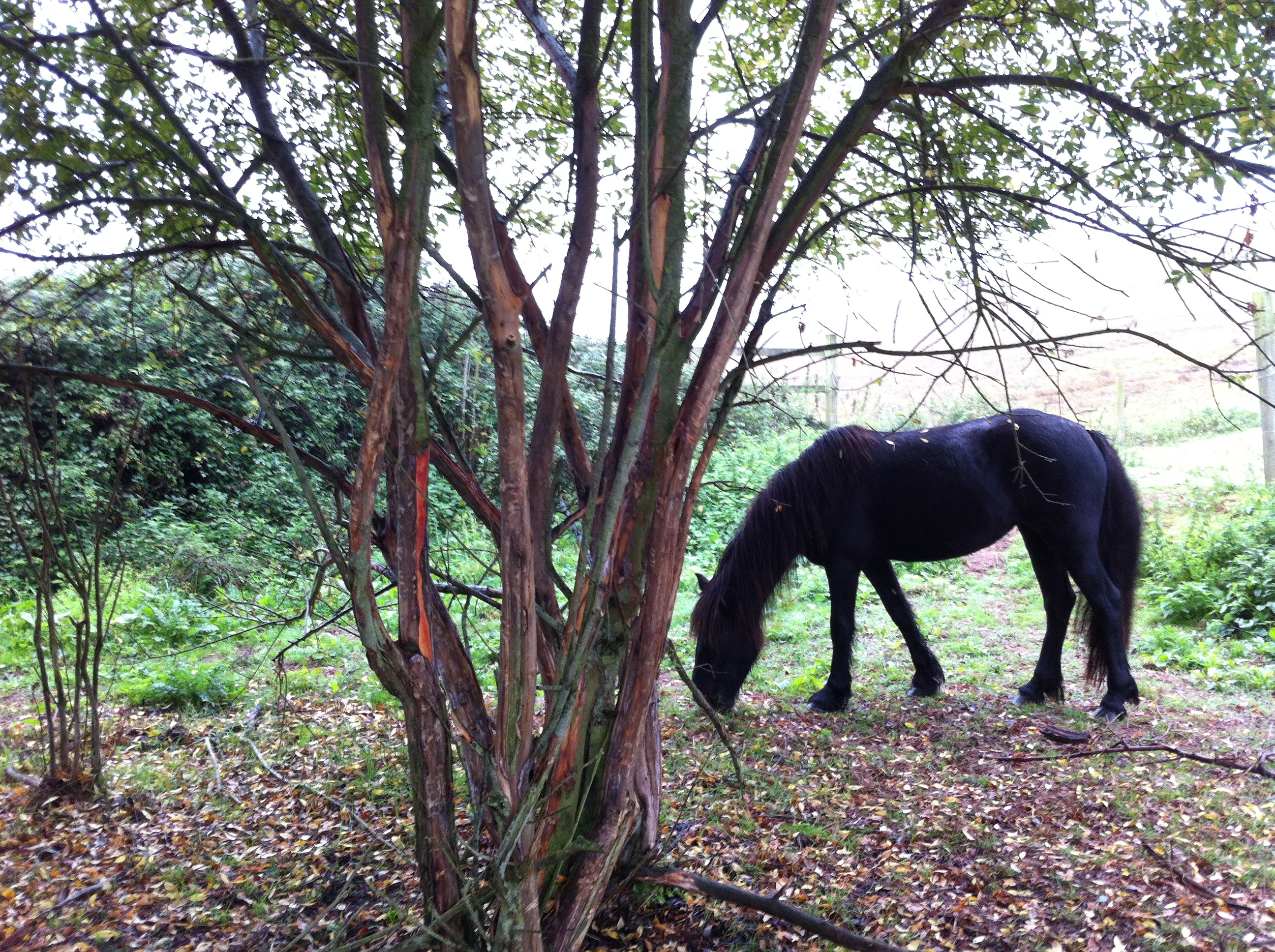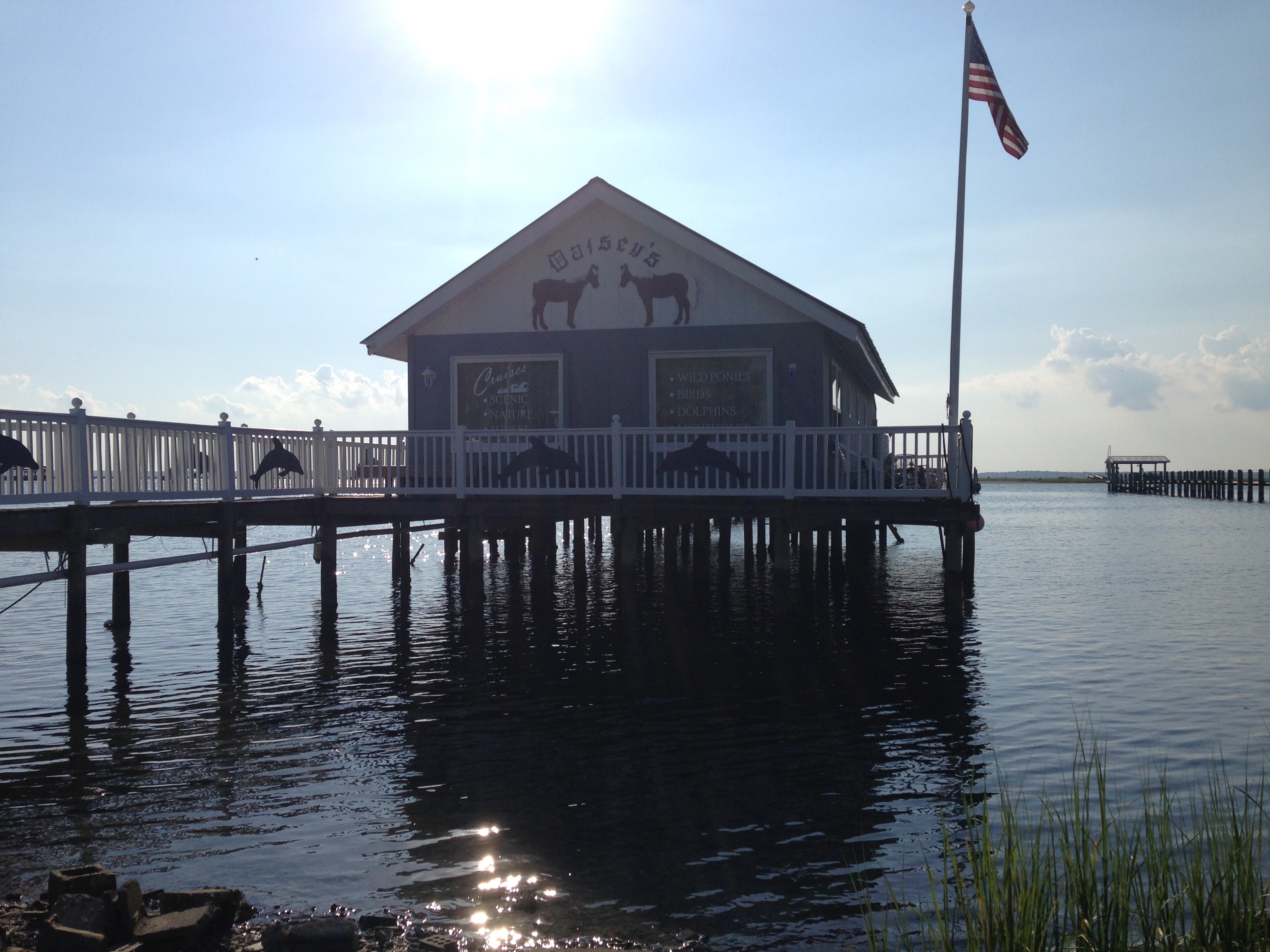 I have just come back from America, where I went to visit my sister and her partner, Vanessa. The main thing was just to spend time with them, but there was one trip which they had arranged and kept strictly secret to be a surprise for me. It turned out that we were going to go to see the feral Assateague ponies of the Chincoteague National Wildlife Refuge.
Assateague Island is a barrier island located off of the Eastern coast of the Delmarva Peninsula. It is 37 miles long, and is home to over 320 species of birds (depending on the time of year), the famous Assateague ponies, pristine beaches, and a working lighthouse. The Northern two thirds of the Island are in Maryland, while the Southern third is in Virginia. The Virginia section contains the Chincoteague National Wildlife Refuge and is the part which we visited. Here we had booked a boat trip around the island, using 'Daisey's Island Cruises', a family run boat touring company. 
We checked into a Bed & Breakfast called the Channel Bass Inn. A cosy little Bed & Breakfast with two families of mallard ducks living outside, who we discovered congregating around a pond boasting a constantly running water fountain at one end. Bathing under the water fountain looked so blissful with the air temperature at around 37 degrees centigrade.
Once we had checked in, we decided to head over to the wildlife refuge straight away, before nightfall. Driving through, we almost immediately saw a herd in the distance, so we pulled over to get a better look. First of all they were just far off shapes, but when we used the binoculars we could see in enough detail to watch a cattle egret riding on the back of one of them.
Closer to us there were also Great Egrets fishing in marsh pools....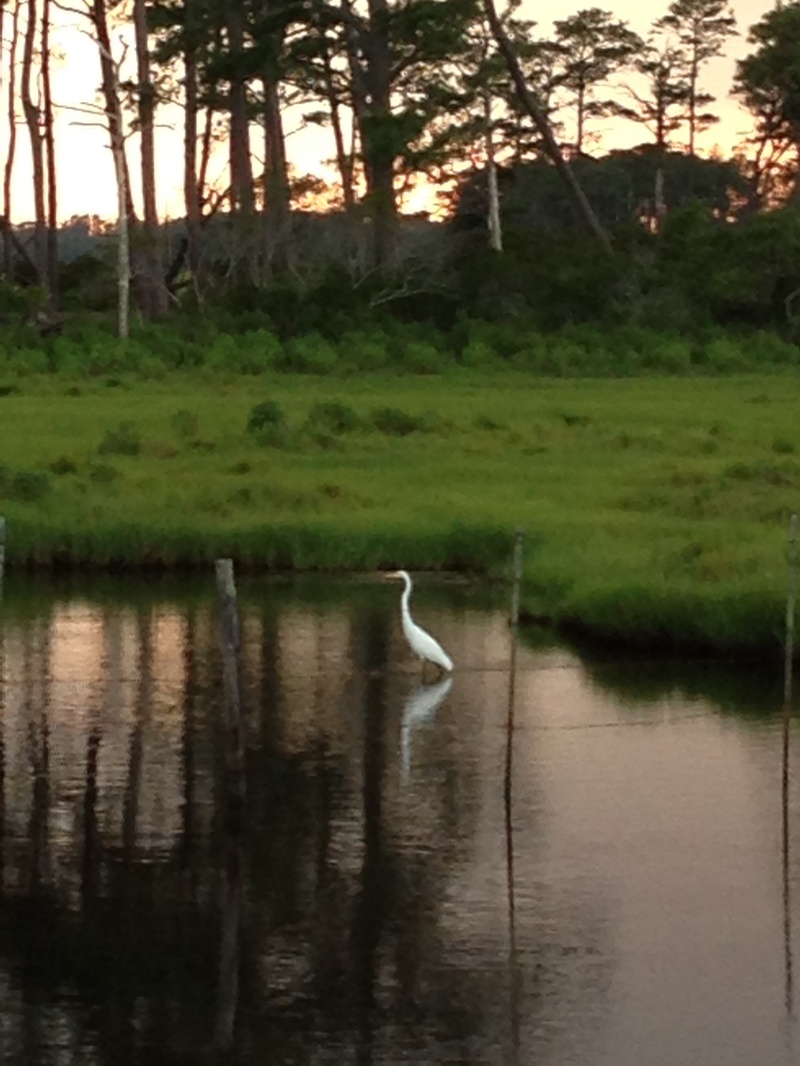 After some time, the mosquitos increased and the sky began to threaten rain. We called it a day before getting drenched and becoming meals for biting insects. 
The following day, after a delicious home made breakfast (including amazing gluten free and vegan ginger scones!), I was excited to get out on the boat to see more of the Assateague ponies. I couldn't pass up on the opportunity to go to the local beach and have a dip in the sea first though. My refreshing swim was followed by packed lunch on the beach, fuelling up for a super boat trip.
On arrival at the pontoon, my sister was initiated into the reality the local horses must face all the time- A bite on the leg by a greenhead horse fly. These flies are from the same family as our horse flies back home. They have a biting mechanism like scissors, making it possible for them to slice the skin first before having their blood meal. This is what makes their bite so painful. Like our British horseflies, they do relent in a strong breeze, so when the captain started the boat's engine and we began to gather speed, the Green Head Flies rested on the ceiling of the boat and left us alone.
For behavioural scientists, researching the horses and other wildlife can be difficult and potentially very dangerous, when faced with difficult terrian and insects carrying dangerous diseases. Getting to some of the small marsh islands where bands of horses like to graze will sometimes require a twenty-minute walk through waist deep water.  ("The Assateague Ponies", Ronald R. Keiper) 
Five minutes into the boat trip and before we got to where the ponies might be, some Atlantic Bottlenose Dolphins stole the show! It was a huge pod, to the point that it was hard to know where to look.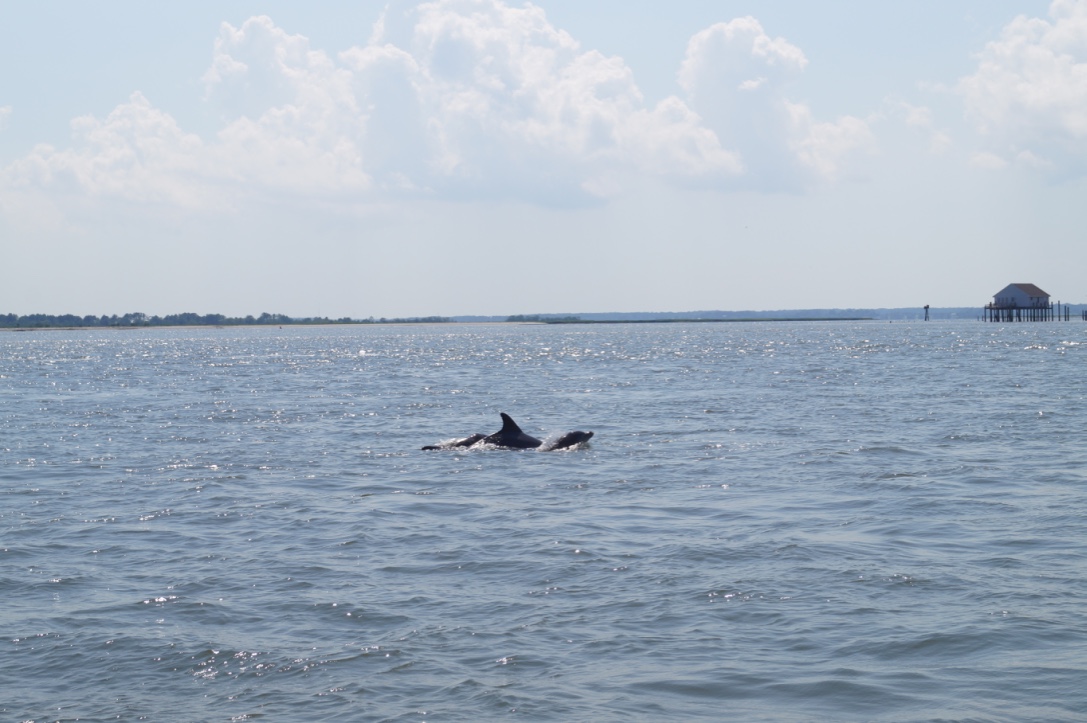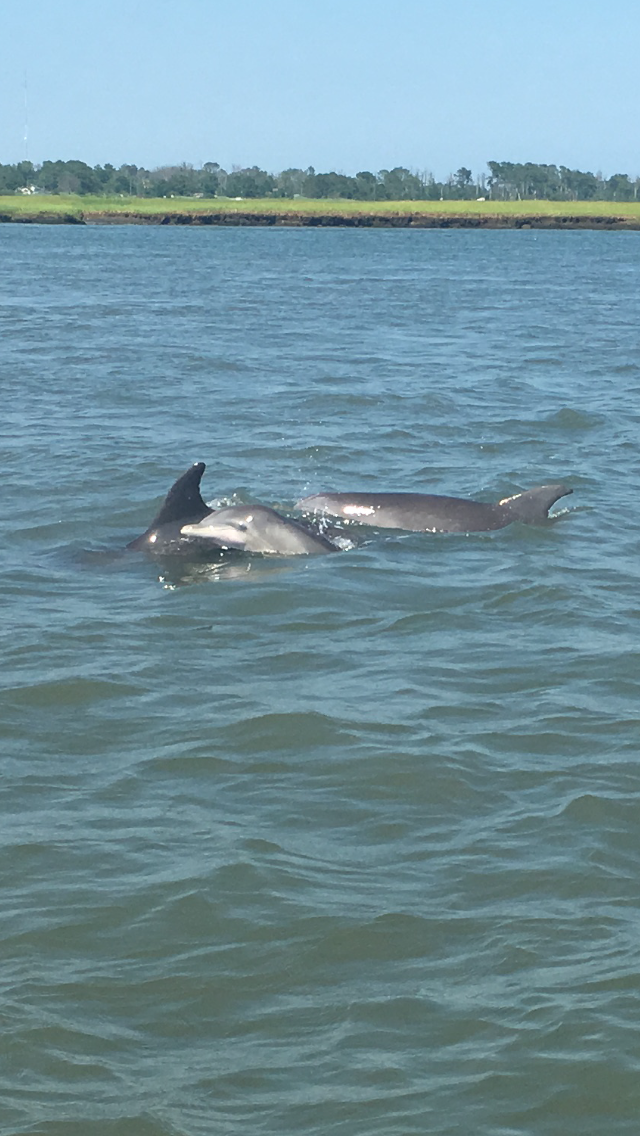 The captain could not find any of the ponies this time. For me, the beauty of more ethical wildlife spotting trips is the unpredictability of them. I believe this teaches us humility towards nature - it is not there for our entertainment. There were no ponies for me on this boat trip, but even though we had set out to see them, the opportunity to witness so many other beautiful animals in their home environment was incredible. I was also able to experience a small taste of the horses' terrain, as well as learn a lot about them anyway. 
Here is a list of the birds we spotted; Belted Kingfisher, Willet, Godwit, Ibis, Least Tern, Common Tern, Sandwish Tern, Little Plover, Great Blue Heron, Tri-coloured Heron, Black headed gulls, juvenile Bald Eagle, Brown Pelicans, Cormorants, Oystercatchers, Snowy Egrets, Great Egrets, Canada Geese, and last but not least a stunning Osprey and chicks...
Laura and Vanessa had done the boat trip once before, and had some beautiful photos, so here they are:
Foals nursing and resting: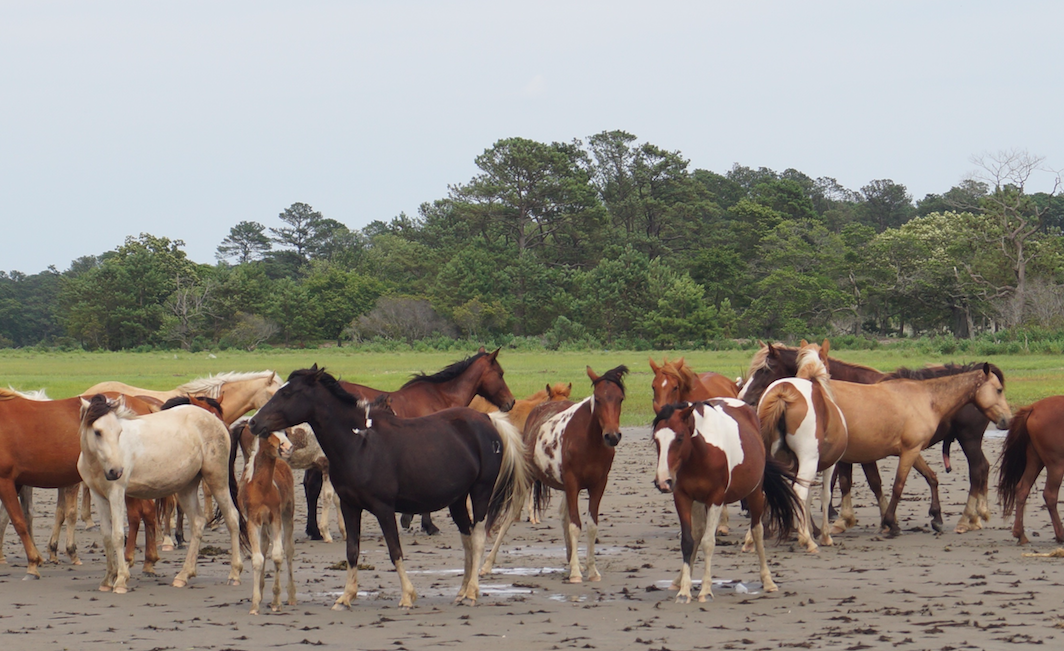 The stallion, Riptide, is the dark chocolate coloured pony with a lighter mane and tail, to the right of the central, piebald mare with her skewbald foal: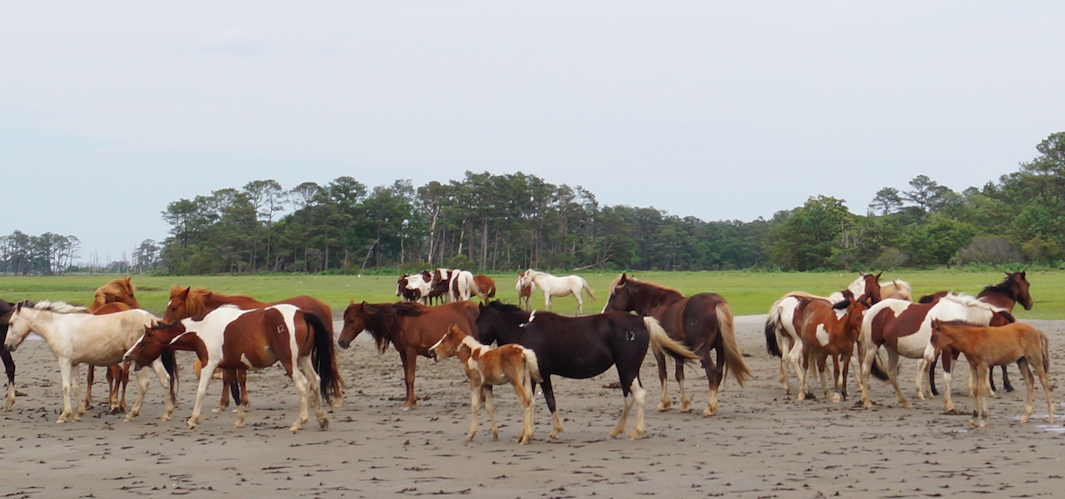 Here a foal uses his/her dam to shelter his face from the flies: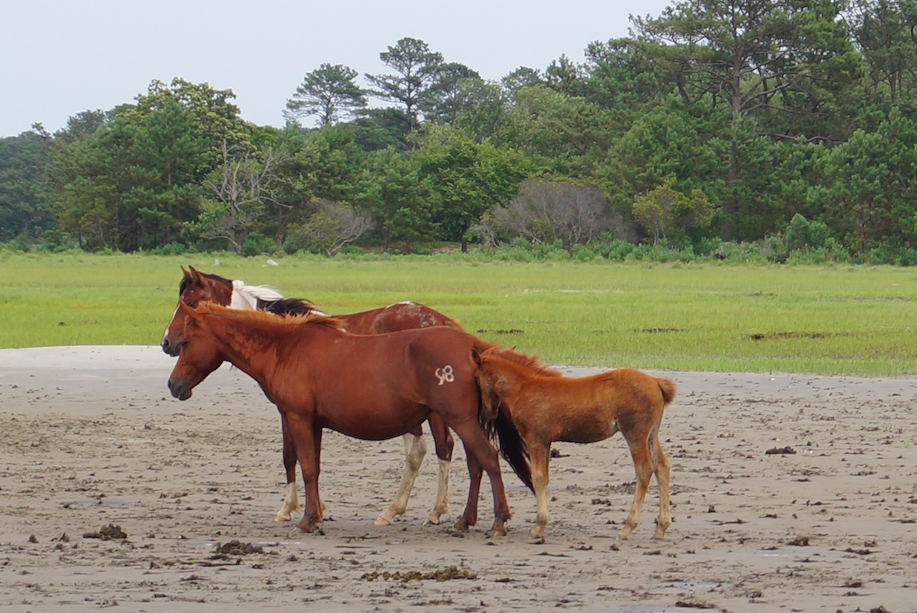 Nobody knows the true origin of the Assateague Island Ponies, but there are three theories. One is that a Spanish galleon, carrying horses to South America, shipwrecked off the Island in the late 1500s, and the horses come from survivors of that wreck. Another theory is that pirates deposited the horses on the Island to serve as food when they next passed that way - the pirates never came back, but the horses flourished.
The last theory is the one believed to be the most feasible. This is that the ponies descended from horses concealed by the early Eastern Shore colonists who sought to escape taxation and fencing requirements, grazing the ponies on the Island until they were needed back on the mainland. Whatever the true theory, the ponies have successfully lived on Assateague for at least three hundred years.
There are two herds, the Virginia herd and the Maryland herd. The Maryland end became Assateague National Seashore Park, and the southern end Chincoteague National Wildlife Refuge. The population size of each herd is kept to around 150 animals to lessen the impact on the island ecology, but each herd is managed in a very different way.The ponies living in the Assateague National Seashore Park have long been part of a contraceptive programme using PZP (porcine zona pellucida). The zona pellucid is a glycoprotein membrane which surrounds all mammalian eggs. Put simply, the PZP is produced by a process where the ZP is removed from the ovum, its glycoproteins extracted, isolated, and converted into a vaccine. The vaccine then stimulates the target animal to produce antibodies, which attach to their own ZP, blocking fertilisation and causing contraception. This method of contraception has been used on the horses in the Maryland herd since 1988 with enormous success, and they are now exclusively managed this way. It can be administered via a dart gun so that handling can be kept to an absolute minimum. Disease is also generally seen as a natural environmental factor and the horses left to regulate these issues naturally.
The Virginia herd have exactly the same population limit of 150 individuals, but are instead controlled via a removal scheme, sponsored by the Chincoteague, Virginia, Volunteer Fire Company. This has become an annual tourist attraction, with over 40,000 spectators turning out to watch the famous 'pony swim', where the horses are herded across the water from Assateague to Chincoteague, and that year's foals are sold at auction. Spectators arrive the previous week to watch all the events leading up to the swim. On the weekend prior, the ponies are herded into two corrals on the Southern and Northern ends of the Virginia section of Assateague. There are bus tours to the Northern end corral, and the public are able to access the Southern end corral. Early on Monday morning, cowboys will then move the ponies out onto the beachfront and walk them down to join the poinies at the Southern Corral. Tuesday they are all vet checked and vaccinated, before the pony swim on Wednesday. The swim takes place at 'slack tide' when there is no current. On arrival, the ponies are allowed to rest for 45 minutes before being paraded down the Main Street to the carnival grounds, where they will be sold at auction on Thursday morning. The auction serves to control the population size, but it is also a fundraiser for the Chincoteague Volunteer Fire Company, which does give some of the proceeds towards veterinary care of the ponies. Each year, population permitting, the Fire Company selects a few ponies as 'Buy Backs.' This is a foal that is designated to the Fire Company to return to to the Island to live out his or her life there. They are auctioned with the rest of the foals, but the winner of a Buy Back Pony is able to name the pony before they are returned to Assateague. They are the highest priced pony sold at the auction, with last year's sole Buy Back foal being sold for $30,000. 
Because both herds of ponies are on an island and are effectively in quarantine from other horses, they are an exceptionally good opportunity for viable research projects. Because the two herds are also managed in such different ways, it is also possible to draw comparisons between them. Personally I believe that we can learn a lot from the Maryland herd, perhaps fostering similar methods of controlling feral pony populations without as much human intervention.
It has been shown that horses are more fearful of humans after they had endured experiences such as roundups. When you speak to the locals, they all say that the Maryland herd are the less nervous of humans. These are the ponies which are left to their own devices and are not part of the annual round up. 
Big thanks to our super guide, who happens to be the new Mayor of Chincoteague, Arthur Leonard.
References: 
Keiper, Ronald R. 'The Assateague Ponies', Tidewater Publishers, A division of Schiffer Publishing, Ltd, Reprint copyright 2015.
Chincoteague town website: http://www.chincoteague.com
Daisey's Island Cruises: http://www.daiseysislandcruises.com/ 
Pryorwild, 'Following the activities of the Pryor Mountain wild horses', February 19, 2010 - PZP & Assateague Island: https://pryorwild.wordpress.com/2010/02/19/february-19-2010-pzp-assateague-island/
Assateague Island National Seashore: http://www.assateagueisland.com/index.htm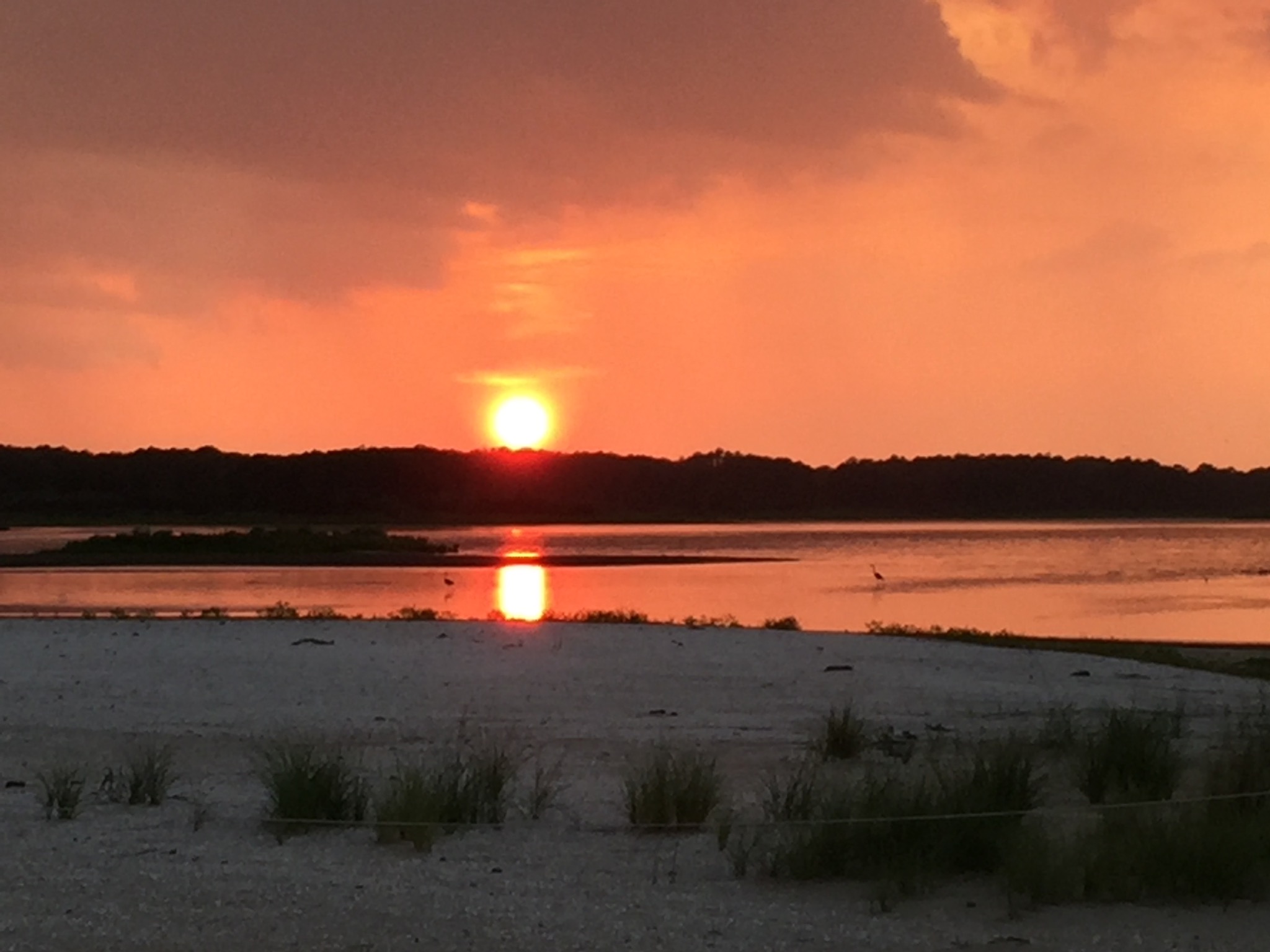 In Fakenham in Norfolk live a large colony of feral chickens. They are very popular with the locals, and I can see why! They have thrived there for many years now, and mingle with the ducks when locals bring their children for outings to feed the Fakenham wildlife. 
Sometimes, more Cockerels will mysteriously appear in the colony, having been abandoned there. This is why there are always far more cockerels than hens. The scene is always accompanied by crowing, which I think is really rather nice.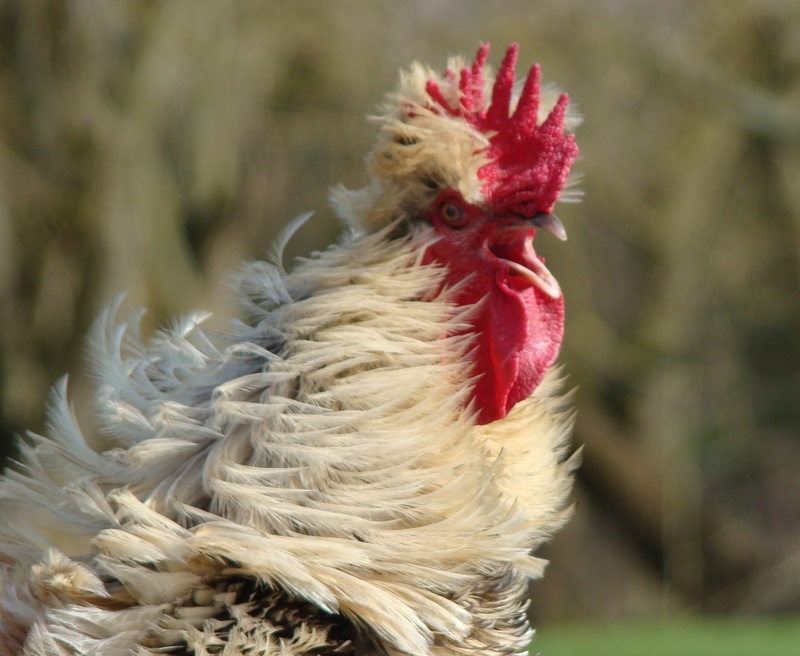 I will be doing a talk about chicken enrichment at the beginning of May, alongside Animal Welfare Consultant Suzanne Rogers, who will be shedding light on their intelligence and cognition. It seemed just perfect to go and study these chickens in Norfolk. In November last year I spent just two hours watching them, so I couldn't wait to spend at least two days watching them this time, making notes on their behaviour and taking a vast amount of photos and footage.
This video shows some of the chickens roosting early in the morning. Here, I am unfortunately the cause of their alarm call! I guess it would be unnerving to find a curly haired human aiming a camera at you at 6:45 in the morning! It is possible to see from this just how high they like to roost, which explains the domestic chicken's innate desire to perch up high.  
After taking this footage, I was fairly certain that these particular chickens were the same ones I had seen milling around that tree in November, so I went to see if the group which I had found in the woods were still in the same place as back then. Yes they were!...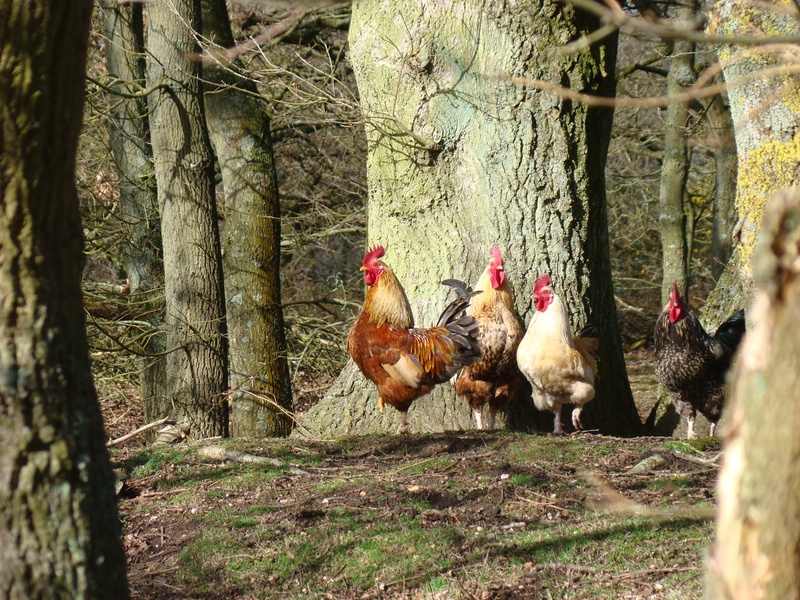 Here are just four of a large flock of twenty individuals.
I went back to each of the other areas I had briefly visited, and found that the same groups of chickens were still living in each different territory. This was interesting, as it showed that they stuck to their own areas and roamed within those boundaries. 
Each group was very different in character, with different cultures if you like. Unlike the large group living near the river and sharing space with the ducks, the woodland group was particularly wary of human interactions. This meant that I spent a lot of time sitting still on my little three legged stool, hands getting decidedly colder by the minute, and my mind getting used to a kind of zen-like state of waiting while the flock got used to my presence. I also got very reliant on the zoom on my camera! 
This cockerel was preening in this large gorse bush they all regularly congregate around. 
I was able to sit out the chilly morning for just over an hour, before leaving the woodland chooks to it for a bit and going to make a cup of tea. On arriving back at the riverside, I was interested to see that only hens were now left in the tall tree I had found them roosting in in the morning. They appeared to be leaving it as long as possible before going down to eat. As I was watching, one of the hens flew down- she hit the ground running, and immediately had a number of cockerels on her tail!
That explained that then.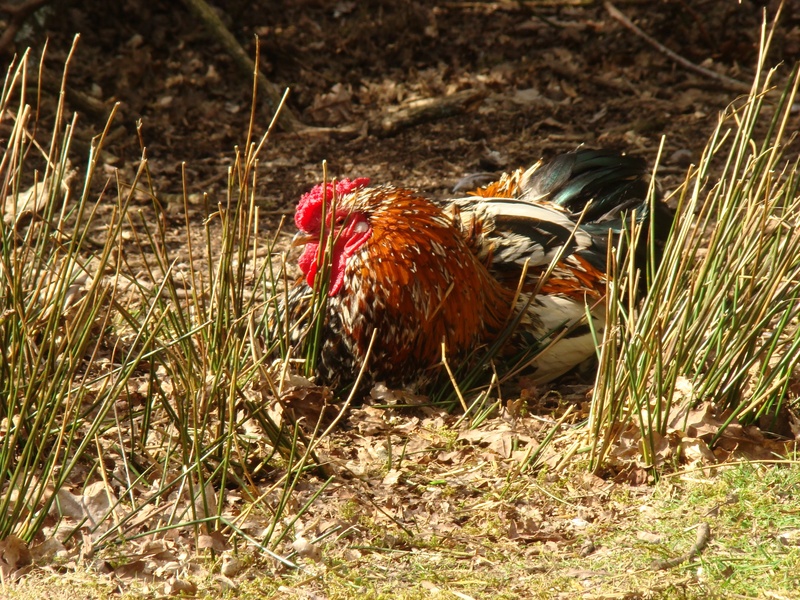 I was very lucky with the weather. After the crisp and chilly start, on both days I was blessed with the perfect sunny day - not too hot, not too cold, but with enough warmth radiating from the sun for the chickens to make the most of it and do some sun bathing and dust bathing.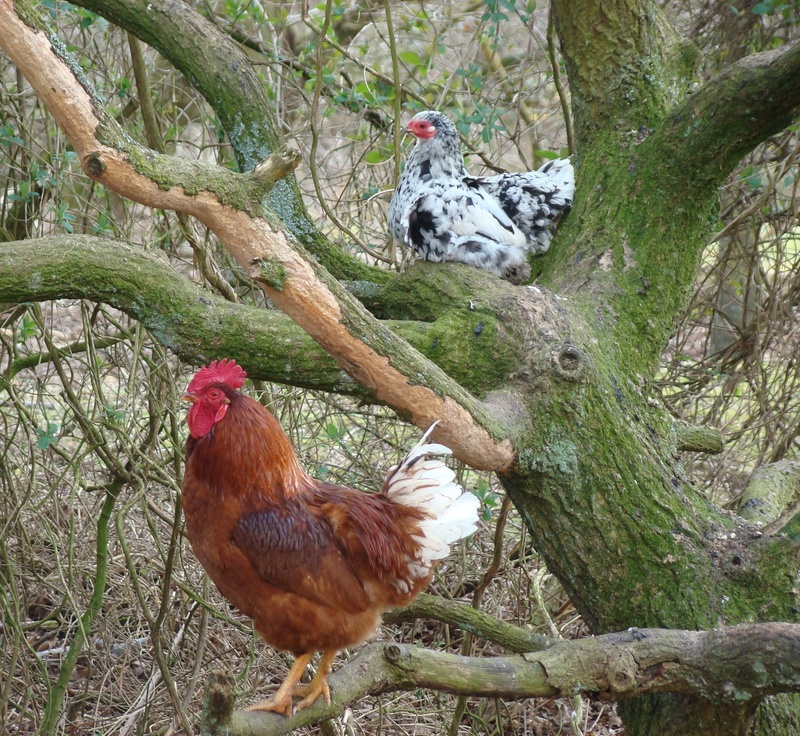 Here is the lovely only-hen of the big woodland group, who tended to stay in the trees. The cockerel pictured spent a lot of time with her. Only when he left for some food, would other cockerels steal the opportunity to make advances upon the fair lady in the tree. 
I found that on the second day, the group were a little less wary of my presence, which should have made photography a little easier. However, they began to move further into the woods, where positioning myself in the right way for some good shots was quite a challenge. Lots of dust bathing went on behind logs, so I couldn't quite see, save for the odd flash of a feather or puff of dirt. After struggling to get any successful footage, it was rather nice to get back to the group of much tamer chickens near the river, where I could take lovely sunshiney pictures at my leisure....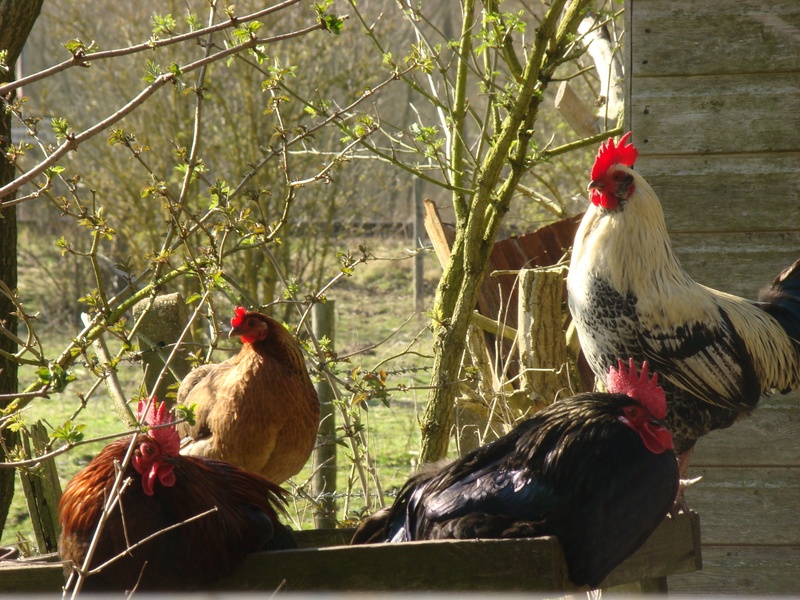 For someone who loves these fantastic fowl, Fakenham was a blissful place to spend time watching, writing, and simply reflecting on life. Something this experience did for me though, was make me appreciate even more, the time I can spend doing exactly the same with my own exquisite flock. If you have a flock of backyard chickens, get out there and enjoy these moments with your feathered friends. Dust off the old camping stool or deckchair and a make cup of tea, or nice cool drink if it is a warm summers day. Sit there and observe the intricacies of chicken life. It certainly is a heartwarming and therapeutic past time.
If you are interested in learning more about chicken enrichment and how to have very happy chickens, do come along to the afternoon workshop in Surrey on May 7th. For more information, please click here to go to the event on the Learning About Animals Website. 
"The most important thing in communication is hearing what isn't being said. The art of reading between the lines is a life long quest of the wise."  - Shannon L. Alder
Each of us carries a background of unique to us experiences. Each of us has different sensing abilities, and each of us is affected by external factors in different ways.
Because this is true of all beings, it is a great equaliser to bring into our mindset when we are with our horses, or any animal or human for that matter. Through empathy we can build a level of understanding and shared feelings. Of course to empathise with another being is a beautiful and powerful thing, giving both parties a feeling of connectedness. It is however, useful to keep in mind that you still have very different perspectives. What you cannot comprehend may be something that your horse takes for granted, and vice versa.
In working with and riding these majestic animals, we must remember our differences as well as our similarities. How differently do we see the world? Have you ever wondered how your horse hears, sees, smells, tastes, and feels the world around him? I believe these are vital questions to seek out the answers to. If you have a competitive streak and want to win with your horse, my advice would be to learn how your equine partner sees the world first. Based on your findings, you might make some subtle changes, or big changes, in order to achieve the very best.
I recommend spending some time researching these things and building a picture of what the world is more likely to look like to your horse. Then, once you have an idea of these basic facts, you can begin to look closer at what the world might look like to your horse in particular.
It is becoming much more common in human education for different learning styles to be catered for, as it is so much easier to for the learner to reach success if the material is put in a way which is more compatible with his/her own systems for understanding information. For example, I struggle to read information on a screen if it is black writing on a white background. As I write the first draft of this blog, it is on a sky-blue background which I find much more pleasant on the eye. 
The same can be said for equines with differing learning styles. Through taking your time and observing how your horse reacts to, responds, and interacts with things, can give important clues as to their own learning style. 
If you do some detective work and begin to gain an insight into who your horse really is and how he views his world, this could make a huge difference to the results the pair of you achieve. 
After passing my final exams, I am now a fully qualified Holistic Equine Massage Therapist. I have that wonderful feeling of having crossed the finish line. This is not a finishing line at all though really, it is more a key to allow me onto the 'next level'.
This course was a real challenge due to juggling work, animals, studying time, and a constantly tight budget. Due to the course being home-study but with practical days, much self discipline was needed on my part, and sometimes it was tricky to stoke up the fire of motivation and get going with more studying, more case studies, more practice, and keep up with the self belief. 
This truly was a fragile balancing act which required alterations at times and the space to be allowed to admire my own efforts!
It reminds me greatly of working through challenges with other animals. Sometimes the animal in question might seem like he or she may never come to understand what you are asking of them, but if put into the right context, and with the addition of patience, understanding and knowledge, the goal will be achieved in the end.
The art is in the balancing of these things, and understanding the signs in which one must remain at the level that you are on together, progress further, or retreat to more comfortable ground. This is something that can be applied to many situations between human interactions with other animals. We need to look clearly at the input from that animal and what that input is really telling us about our own actions. Here is where the stone tower you have built will either gain more structure, or sadly become more likely to topple over.
We can always begin with solid foundations, but after that it may sometimes take on a more unique form in the real world. If each stone was likened to an equine learning a new skill, there may be times when right in the middle a fairly large stone is placed on top of many medium sized ones. The thing is, if we have applied the right foundations initally, this should not prove a problem. Put the stone on top of small, uneven pebbles with not foundations however, and you will barely have a chance of a hint at success.
Another combination will never work - the 'upside down tower' - this is where the stones chosen - or demands upon the equine - simply get bigger and bigger. A structure like that may look impressive initially, but will end soon in a crumpled heap (although this could take years to become visible, while the psychological stresses begin to manifest unnoticed). Far better to add some nice easy steps in that equines career, perhaps adding simple 'bonding exercises' between the two of you, such as going over old lessons, or simply some walks out in hand or some groundwork or extra grooming sessions. These small stones become the real glue between the bigger stones.
So I suppose to make this analogy complete, I would describe the construction of my stone tower as one which is perhaps not showy, perhaps not much to look at, but built with consideration and deliberation. Through this process something magical can happen and the tower grows and develops into something yes, humble, but a thing of lasting beauty.
This is what I believe more people could strive for in their human-equine relationships.
Self Discipline.
"Recommended by Monks, Yogis, and Successful People Everywhere!"
- Jemma Cholawo
This business is a new venture for me, and I am enjoying watching it evolve as I work through the final parts of my Holistic Equine Massage course. I am acutely aware though, of the power of self discipline, and of course its defiant opponent, procrastination!
There is so much that I can do while I have this more flexible schedule. I no longer have the time restraints of an 8 to 5 job, and for the first time in four years I have Sundays off! I can practice activities that promote my self motivation, which are usually meditating, doing an hour of yoga exercises before breakfast, and regularly swimming in the sea or going out for walks in nature.
These things always help me without fail. I become charged by them and find myself able to study harder and even think and act more effectively. Yet, I only meditate when I go to a spiritual group once a month, rarely off of my own impulse at home, and I only do my yoga exercises if EVERYTHING has already gone to plan. I have to wake up 'on time' and have absolutely no distractions. You can forget doing them any other time in the day as well, I am far too 'busy' for that. As for the sea swimming, I am managing once a week at best, and every time I take the plunge, I emerge exhilarated from the sparkling surface of the water and feel the same glitters and sparkle shining through my soul as well (or perhaps that is just what going numb from cold feels like…;). I tell myself this is the way forward, I tell myself this is the best way to feed my spirit and fuel myself to make things happen. It gives me the tools to be myself and to perform to the very best of my abilities. At that moment in the sea I believe fully and with utmost commitment that I will perform this act of plunging into the icy local waters every day! Of course I will! I know I can!
The next day comes and I wake up late, too hungry for breakfast to think about doing yoga or meditation. I sit on the sofa eating cereal and slurping a cup of tea whilst scrolling through the latest news on Facebook. Facebook pulls me in and an hour scrolls by. Suddenly I am late to see the ponies. Quick sharp I zoom to the field in my car (much nicer to cycle, but no time!), feeling a little like a rusty machine after missing my usual morning routine.
Time with Spirit and Skylark is blissful magic. It is as though they cast a spell in which anybody around them must live for the moment. I do what is right at the time, either basic husbandry and health care, or following our latest 'shaping plans' and working through various games or activities we are working on at the time. Or I might just gently groom them, or mooch around being 'one of the girls'. In my opinion that too is valuable time spent with horses. Either that or I sometimes have field maintenance to do, which I also find rewarding and absorbing.
Before I know it the morning has gone. Quick zoom, get home, have a cup of tea and some lunch! With a few appointments the afternoon disappears and no studying has been done. Paperwork lays sprawled on the desk laughing up at me as I look back on another day that has taken me. Yes, taken me. Rather than grasping my own power and forging a way forward, a thing of beauty perhaps, I become swept away in a current of excuses and wasted time.
So what is the secret to self discipline and why is it important to our work with our animals?
Here is a definition from Collin's English Dictionary © HarperCollins Publishers 1991, 1994, 1998, 2000, 2003:
"self-discipline n 1. the act of disciplining or power to discipline one's own feelings, desires, etc, esp with the intention of improving oneself ˌself-ˈdisciplined adj"
I personally believe that in order to be the best for your horse, you must first work on becoming the best for yourself too. Really just like any relationship, where in order to work in harmony both parties must come from a balanced and nurtured place in themselves. We demand so much from our 'trusty steeds'. Long ago I began to ask whether I could really make such demands, without looking upon my own self improvement.
"If you wouldn't follow yourself, why should anyone else?"
― John C. Maxwell, The 360 Degree Leader: Developing Your Influence from Anywhere in the Organization
One of my great horsemanship inspirations is a Greek man named Xenophon who was born around 430 B.C. near the city of Athens, to a wealthy equestrian family. He wrote the first fully preserved manual on the riding horse. It is entitled "The Art of Horsemanship." Xenophon was a horseman for his entire life, first as a cavalryman and then as a country gentleman on an estate given to him by the King of Sparta. He differs from other ancient writers on the horse in that he urges his reader to know the horse's "psyche," its mentality. He knew that an animal which had confidence in the understanding and good will of its rider would more effectively respond to the commands of the rider. Xenophon encouraged a mutual respect between man and horse.
He is quoted as saying:
"The one best precept-
the golden rule in dealing with a horse
-is never to approach him angrily.
Anger is so devoid of forethought
that it will often drive a man to do things
which in a calmer mood he will regret."
- Xenophon –
This requires self discipline!
What right have we to exercise control over an animal if we cannot first exercise control over ourselves?
It is not just about our rights or wrongs; it is about improving on ourselves in a way only we can. But in doing so it isn't about criticism and judgement, it is far the opposite. We must also learn to forgive ourselves and be able to move on from our own mistakes rather than allow our mistakes to claim ownership over us. If we are not careful we can become engorged by a stagnant pool of self-criticism and self-doubt. And it is amazing how readily we wallow in such a pool! We might even get out a lilo and cocktails to see out the day there, floating deliriously in this negative pool of our own making!
We become trapped by our own perception. How we perceive ourselves, our friends, our family… Or the animals we share our lives with. But we all change, all the time! Old labels need to be shed as we evolve beyond them. The art is to be able to really look inside oneself and understand from within when those labels need to be banished. I believe this is part of the journey of self discipline.
Horses need honesty from their humans, and that is something which in this society we can sometimes forget. From an early age you get taught to hide fear, hide anger, 'put on a brave face'. Instead the challenge is to know yourself, value yourself, know your true feelings. If the picture isn't pleasant, look at what you need to change in your life to change the person you see in the mirror.
I have had a great opportunity presented to me with this change of occupation. The next step is up to me. I can let the day slide by, curling up for siestas with the cat and watching the chickens for hours on end, or I can do those things anyway, but without letting the day slide by! It is amazing what can be achieved in a day if you set your mind to it.
I will strive to arrange my time in a way that reading and studying can be done, as well as all of those activities that provide me with the fuel to do them. I will forgive the slip-ups and the late breakfasts, providing I can still move forwards on my own route up the mountain.
My mountain contains vast plateaus of time to doze in the sun with my animals, swim in the sea, read books, and talk to friends. It has caves in which I can retreat when I need to meditate, before ascending to a viewpoint where I can stretch up as high as the sky and feel my body and mind filling with energy for the next climb.
Carefully climbing up the precipice, there are always appropriate times to stop and appropriate times to start again.
I believe that in becoming a master of myself, I also become a far more compelling guardian to all of the animals I work with.
"No person is free who is not master of himself."
― Epictetus
With great thanks to Jem Cholawo for the title diagram and quote. She is a talented artist and editor. Please visit her website here. 
I was lucky enough to discover the virtues of walking out in hand, through taking on a wonderful retired cob, called Bobby. He had done his fair share of hard work, taking beginner riders trekking over glorious Exmoor countryside. By the time he came to be with me, being ridden really wasn't very high up on his agenda anymore! In fact, although he liked my company, I believe his favourite aspect of any walk was the vast array of hedgerow plants for him to chomp his way through at various 'pit stops' on our walks. With that in mind, I often packed myself a picnic so that both of us could feast out at well-chosen beauty spots on our walks.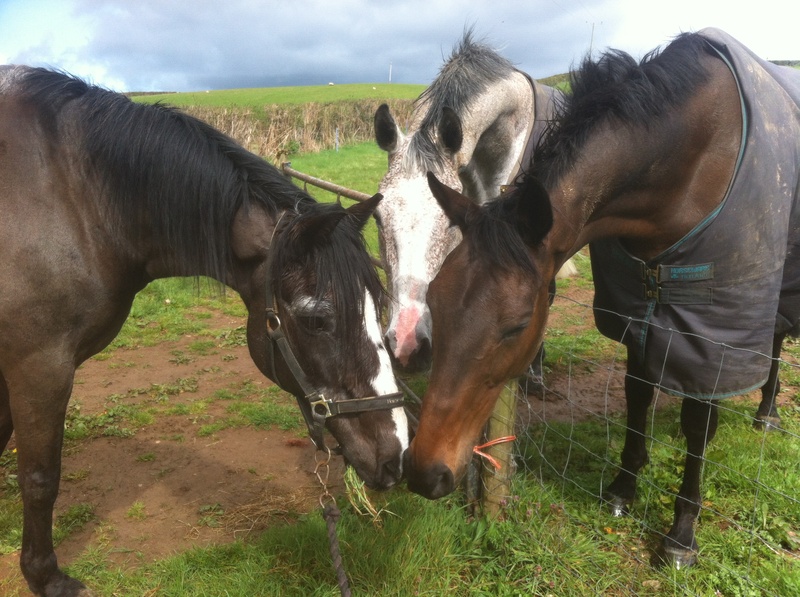 Horses are excellent at self-selecting which plants they may need for digestive or medicinal value, so these walks can be an excellent opportunity for your horse to pick out any herbs he or she may need. That said, it is still worth picking up a book on poisonous plants for horses, or at least to develop a rough idea of the main plants to look out for. Some pocket books are very handy, and can be packed along with you on your walk. I also ensure that the horse I am leading out has had enough to eat beforehand, that he or she is not so fixated on feeding that they will eat everything and anything on offer. It is far nicer for your horse to look forward to the walk itself, as well as the hedgerow goodies.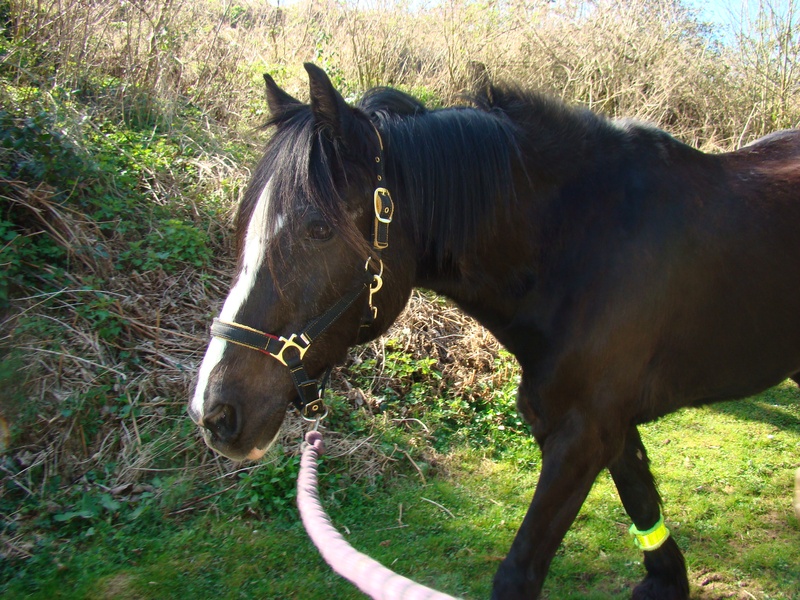 Of course, a horse's retirement it is the obvious time to get into your hiking shoes and get out on some rambles with your four legged friend. But the reason I am writing this is to bring to light the virtues of going for walks at any stage of your equine's life. There are so many good reasons for walking out on foot. For one, it is a fantastic way to introduce a nervous or green equine to all manner of different hazards and experiences. It is a wonderful learning experience for youngsters, and the communication between you both whilst out walking will be a vital step in their education. That said, I would always recommend introducing objects, noises, and obstacles to your equine in a safe environment first, such as their familiar field, or an arena. Ideally, the next step would be to go out onto some quiet lanes, where you are least likely to meet unexpected challenges straight away. Be sensible, set yourself goals, and work your way up to walking anywhere that you would safely ride.
Walking together is also a fantastic way to deepen your relationship with your horse. It becomes a two way partnership, in which you and your friend begin to understand each other's nuances. This will show through in the saddle, because you will have reached a deeper understanding in your partnership. You will be able to pre-empt reactions in your horse to certain things which you had no idea were an issue. This knowledge might just give you that 'edge' that you need when competing.
Going for walks can be therapeutic and relaxing, or it can be fun, upbeat and exciting, but however it turns out, it will be a valuable experience for both you and your horse. It provides free exercise for you and your horse, and you are out enjoying the countryside. The thing I like about walking out in hand, is that it puts both you and your horse on equal footing. Although it is still important to play a 'leader' type role, walking out with your horse certainly feels different to being on top of them, controlling the actions they take from up above.
It is also a great confidence builder for the horse, who sometimes wants reassurance, but cannot always get it with us making demands from their back. When we experience a horse spooking at say, a puddle, then completely relaxing when we jump off and walk past, this is a good example of that reassurance. The horse might not quite be ready to be the decision maker, and any frets he/she may have about the spooky looking puddle become exacerbated into real fears. Through regular walking out and working through all sorts of frets with their favourite human at their side, your horse may soon become far more confident when you are on his/her back. They have been there, done that, and conquered any fears!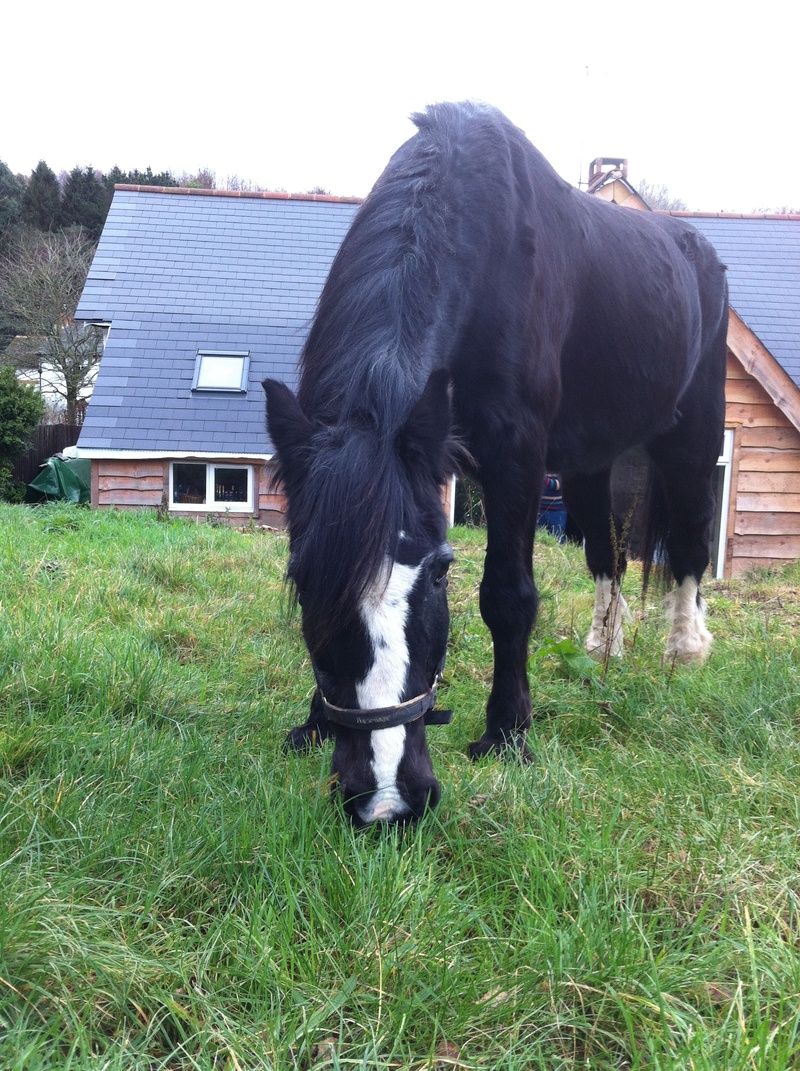 These are some of the rules I try to stick to when out walking:
Try to take a friend with you for additional support...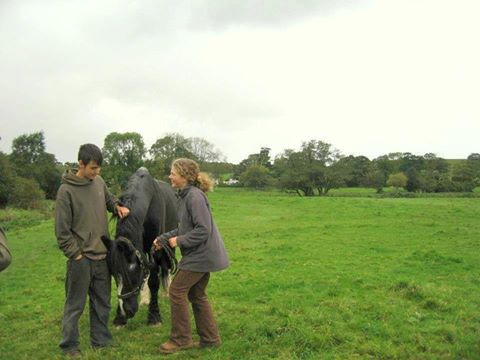 Always carry a mobile phone.
It is wise to wear gloves for safety in most situations. 
Wear sensible footwear, and if you are going a long way ensure that it provides good support for your feet.
Wear reflective clothing, and definitely consider putting reflective clothing on your horse too.
Ensure your horse is comfortable and happy before you leave.
Check all relevant tack is fitted and comfortable, even if it is simply a head collar.
Ensure their hooves are in good condition, or that their shoes or hoof boots are not causing any problems.
Follow the countryside code.
Give other horses a wide berth if you need to pass them.
Give dog walkers a wide berth, and ask them to put their dog on a lead if your horse is not safe around dogs.
Carry a hoof pick, and some baler twine in case you need to tie your horse up safely for any reason.
Go out in a good mood! Although a walk can be just the ticket to calm a bad mood, this is generally not a pleasant experience for your horse,and a being in a negative mood can affect how you choose to react to your horse.
Have fun out walking!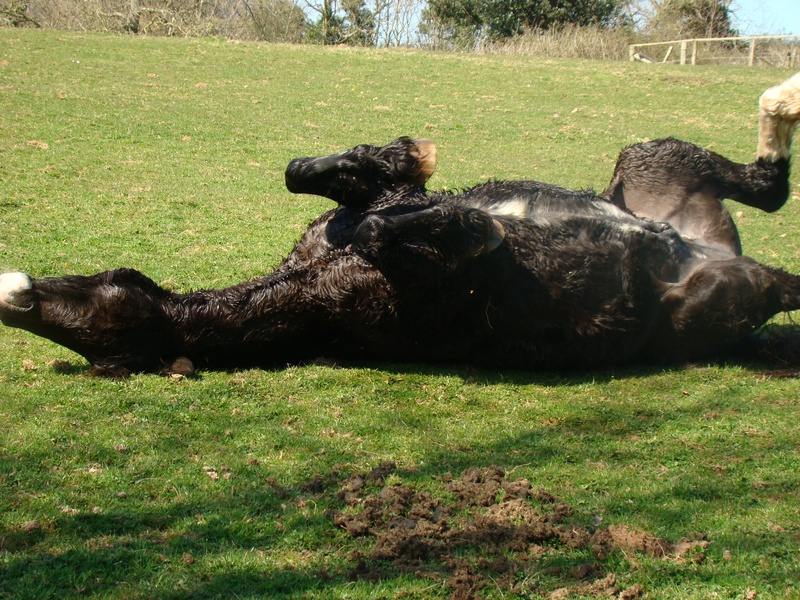 /