| | |
| --- | --- |
| Posted on 3 April, 2016 at 15:20 | |
In Fakenham in Norfolk live a large colony of feral chickens. They are very popular with the locals, and I can see why! They have thrived there for many years now, and mingle with the ducks when locals bring their children for outings to feed the Fakenham wildlife. 
Sometimes, more Cockerels will mysteriously appear in the colony, having been abandoned there. This is why there are always far more cockerels than hens. The scene is always accompanied by crowing, which I think is really rather nice.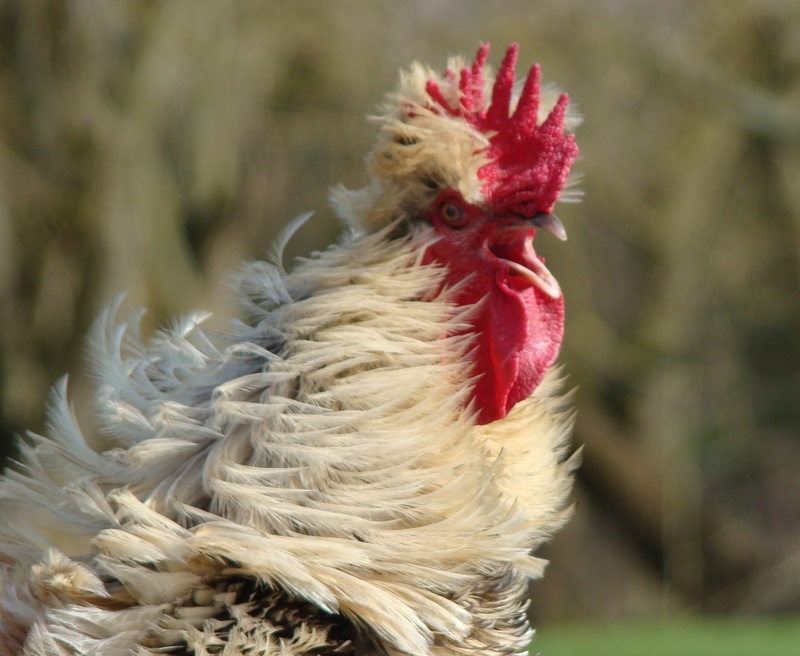 I will be doing a talk about chicken enrichment at the beginning of May, alongside Animal Welfare Consultant Suzanne Rogers, who will be shedding light on their intelligence and cognition. It seemed just perfect to go and study these chickens in Norfolk. In November last year I spent just two hours watching them, so I couldn't wait to spend at least two days watching them this time, making notes on their behaviour and taking a vast amount of photos and footage.
This video shows some of the chickens roosting early in the morning. Here, I am unfortunately the cause of their alarm call! I guess it would be unnerving to find a curly haired human aiming a camera at you at 6:45 in the morning! It is possible to see from this just how high they like to roost, which explains the domestic chicken's innate desire to perch up high.  
After taking this footage, I was fairly certain that these particular chickens were the same ones I had seen milling around that tree in November, so I went to see if the group which I had found in the woods were still in the same place as back then. Yes they were!...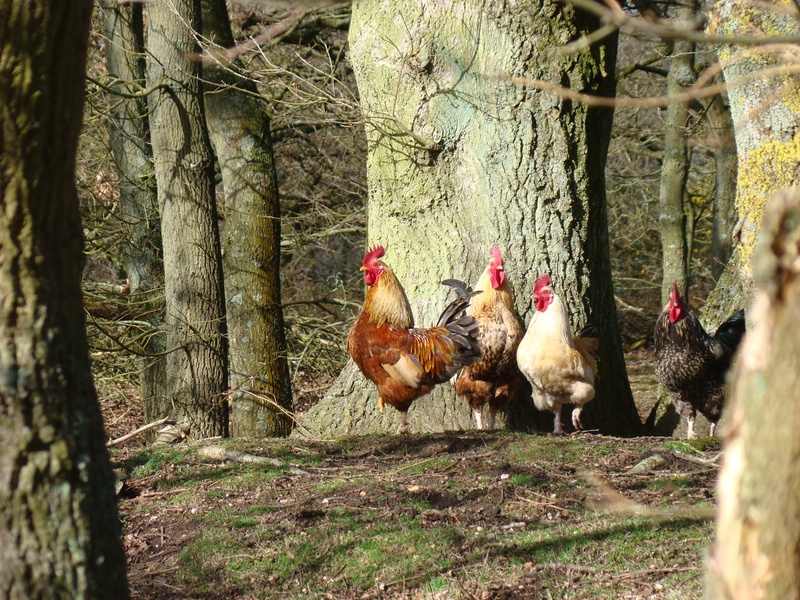 Here are just four of a large flock of twenty individuals.
I went back to each of the other areas I had briefly visited, and found that the same groups of chickens were still living in each different territory. This was interesting, as it showed that they stuck to their own areas and roamed within those boundaries. 
Each group was very different in character, with different cultures if you like. Unlike the large group living near the river and sharing space with the ducks, the woodland group was particularly wary of human interactions. This meant that I spent a lot of time sitting still on my little three legged stool, hands getting decidedly colder by the minute, and my mind getting used to a kind of zen-like state of waiting while the flock got used to my presence. I also got very reliant on the zoom on my camera! 
This cockerel was preening in this large gorse bush they all regularly congregate around. 
I was able to sit out the chilly morning for just over an hour, before leaving the woodland chooks to it for a bit and going to make a cup of tea. On arriving back at the riverside, I was interested to see that only hens were now left in the tall tree I had found them roosting in in the morning. They appeared to be leaving it as long as possible before going down to eat. As I was watching, one of the hens flew down- she hit the ground running, and immediately had a number of cockerels on her tail!
That explained that then.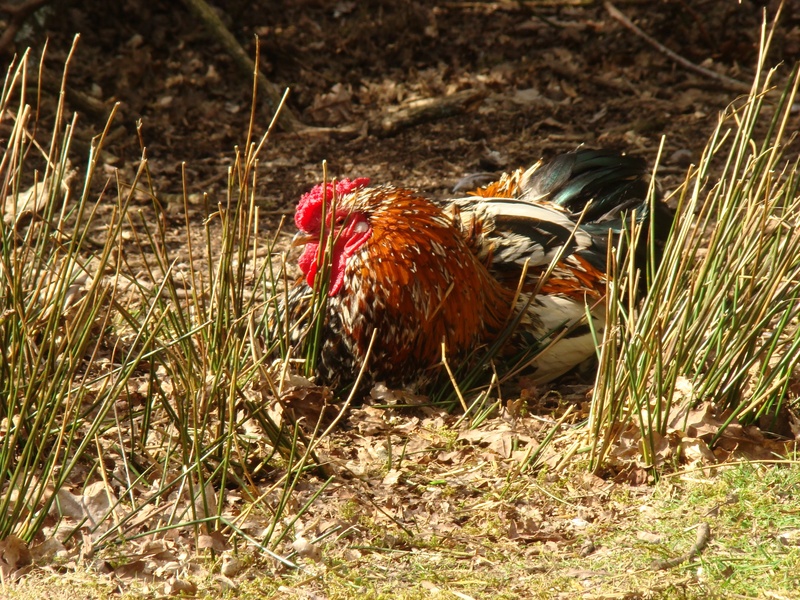 I was very lucky with the weather. After the crisp and chilly start, on both days I was blessed with the perfect sunny day - not too hot, not too cold, but with enough warmth radiating from the sun for the chickens to make the most of it and do some sun bathing and dust bathing.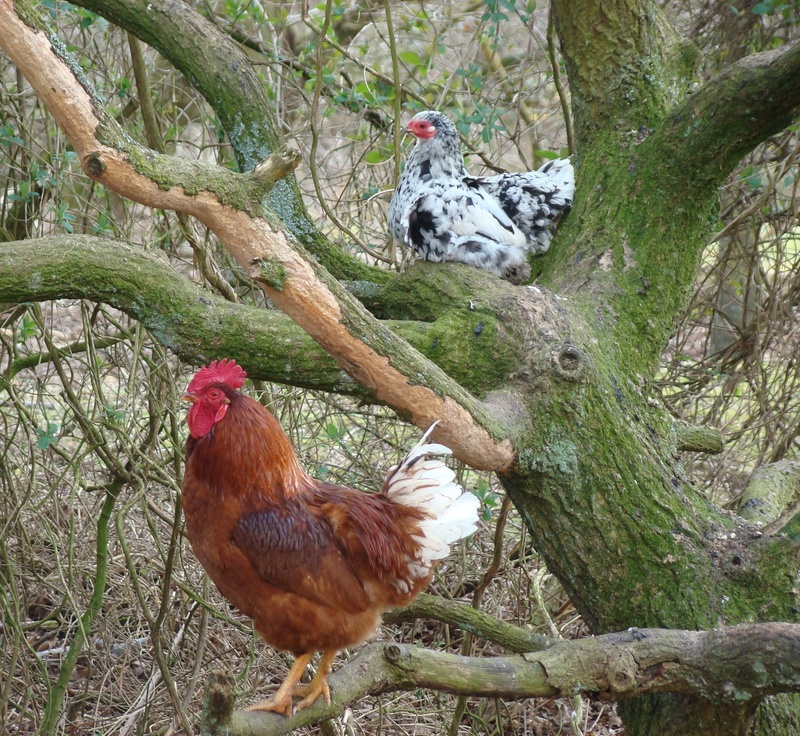 Here is the lovely only-hen of the big woodland group, who tended to stay in the trees. The cockerel pictured spent a lot of time with her. Only when he left for some food, would other cockerels steal the opportunity to make advances upon the fair lady in the tree. 
I found that on the second day, the group were a little less wary of my presence, which should have made photography a little easier. However, they began to move further into the woods, where positioning myself in the right way for some good shots was quite a challenge. Lots of dust bathing went on behind logs, so I couldn't quite see, save for the odd flash of a feather or puff of dirt. After struggling to get any successful footage, it was rather nice to get back to the group of much tamer chickens near the river, where I could take lovely sunshiney pictures at my leisure....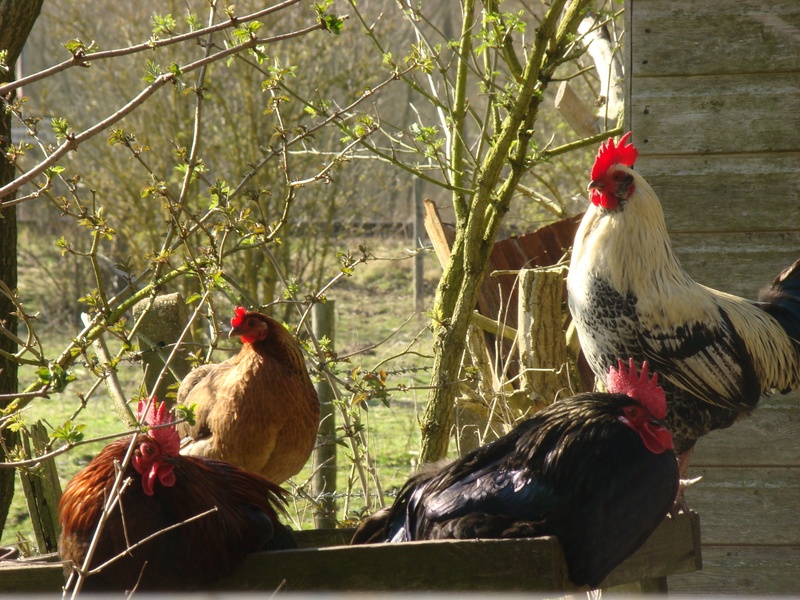 For someone who loves these fantastic fowl, Fakenham was a blissful place to spend time watching, writing, and simply reflecting on life. Something this experience did for me though, was make me appreciate even more, the time I can spend doing exactly the same with my own exquisite flock. If you have a flock of backyard chickens, get out there and enjoy these moments with your feathered friends. Dust off the old camping stool or deckchair and a make cup of tea, or nice cool drink if it is a warm summers day. Sit there and observe the intricacies of chicken life. It certainly is a heartwarming and therapeutic past time.
If you are interested in learning more about chicken enrichment and how to have very happy chickens, do come along to the afternoon workshop in Surrey on May 7th. For more information, please click here to go to the event on the Learning About Animals Website. 
Categories: None
/