| | |
| --- | --- |
| Posted on 3 May, 2017 at 7:35 | |

There are plenty of equines and their handlers out there who would benefit from assistance from a behaviourist. There are however, a mind boggling amount of routes you can go down in dealing with your equine's behavioural issues. There is so much choice available as to how to deal with 'problem' behaviours. In the maze of options, it ends up coming down to what you are most attracted to, for whatever reason that may be. Sometimes though, it becomes like the menu with too many options - you end up floundering, confused, and eventually pick something that you could probably have made for yourself at home. Or, you pick something which sounds incredible, but in reality does not live up to the description. This is often the case with training methods consisting of clever showmanship and a lot of 'magical connection'. Beware of the smoke screens and mirrors involved in these training methods, as all is not as it may appear.
Wouldn't it be deflating and downright depressing, if you were then told that what you were seeing could be conditioned suppression, learned helpless, or a long string of thoroughly ignored calming and appeasement signs from the horse? 
What are calming signs? Calming signs are small gestures submitted by one animal to another in a bid to avoid conflict, minimise aggression, or simply just asking to tone down the mood. These can often be seen in our interactions with horses. Some of these are; looking away, having lateral ears, yawning, stretching down, shifting weight away from the source of tension, empty chewing, licking and chewing, itching an imaginary itch, or displacement eating. If I look through my collection of photos of me and my ponies, I am afraid I can find a large number of calming signals which I clearly hadn't identified at the time. This is why it can sometimes be quite surprising to learn about these signs. It may be a little upsetting to learn that your horse was trying to tell you something and you haven't noticed it all this time. Especially if you are a keen animal-person and perhaps pride yourself in listening to those animals in your care.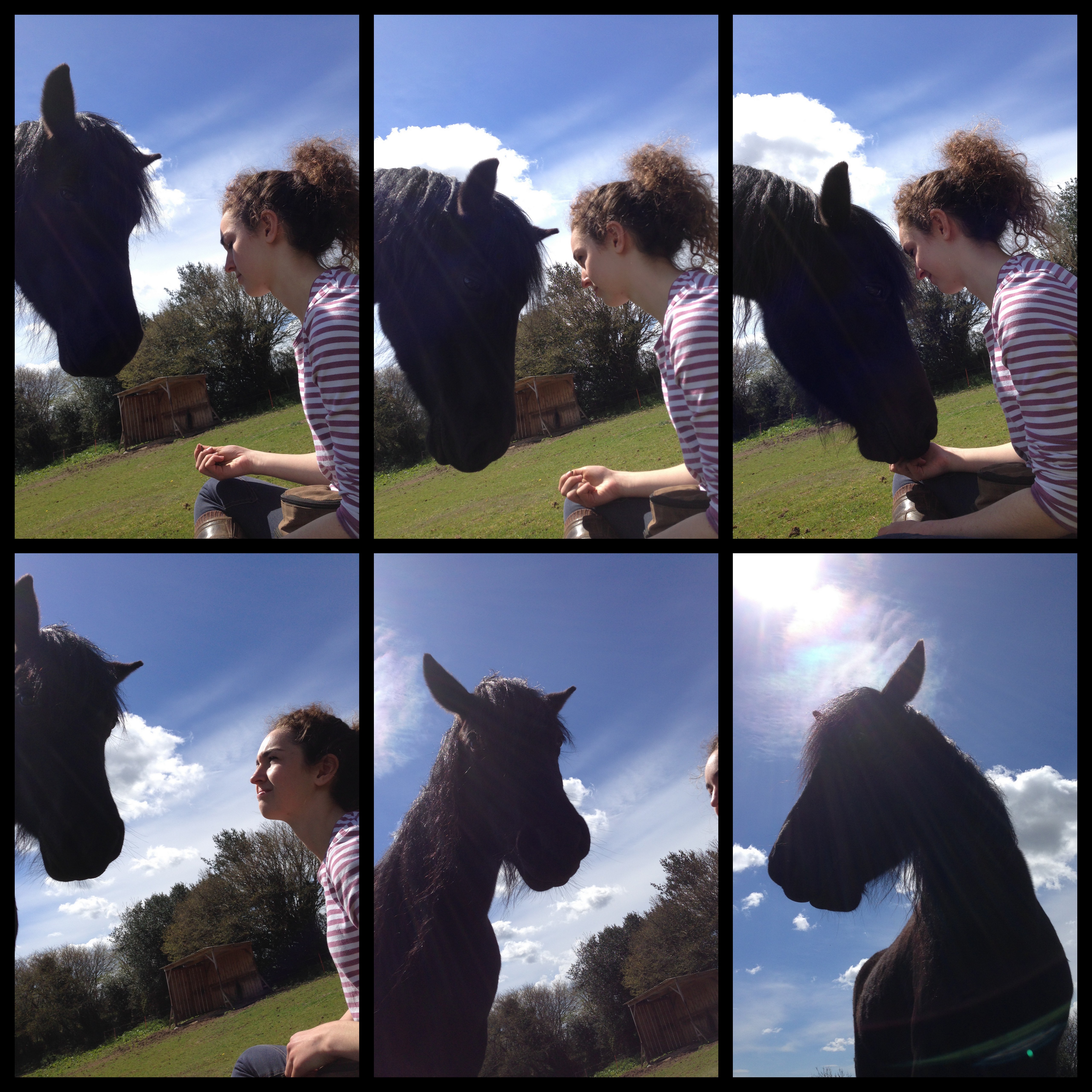 In the above series of pictures you can see my sensitive mare, Spirit, meeting a friend of mine who is sitting down to be less of a threat (note: obviously common sense and caution should be taken when sitting down around horses). You can see a number of expressions through this series of pictures. Initially she is inquisitive, and is motivated to investigate this human who may or may not be a threat. She has tension in her chin, which unfortunately is often the case for Spirit during any interaction with humans. She always has one ear on the person, and is attentive to her every move. In the second to last picture she is displaying lateral ears, as she is considering the best action to take in this situation. Next, in the last picture, she increases the distance between her face and the person and turns her head right away and to the side. If my friend was to ignore these signs now and perhaps stand up and attempt to stroke Spirit, Spirit would most definitely move away. By listening to these signs and reducing the intensity of our actions, we begin to enter into a more subtle and pleasant dialogue between human and horse. Through listening to these smaller signs and acting accordingly, we can affect change. The horse has the ability to develop in confidence at her own pace, and therefore steadily and surely. 
This gets complicated though, because many training methods actually identify calming signs as a good thing, usually meaning that the horse is "processing information", or even meaning that the horse is very relaxed. As a massage therapist, I do indeed notice some yawning, long blinks, and licking and chewing behaviour for example. It is important to note the context however, and look at the entire sentence. By that I mean that when the horse I am treating is showing plenty of other signs of relaxation, such as a flexed back leg, a drooping bottom lip, and a lack of tension around the eyes, I really can then deduce that the yawning and licking and chewing is, in this case, a part of that horse's relaxation. This is essentially, re-balancing of the autonomic nervous system. This does not however, mean that every time a horse licks and chews, they are relaxed, or 'processing information'.
In the above video, my mare, Skylark, is clearly relaxed after a massage treatment. Note her drooping, slightly quivering lips, her eyes closing, with no signs of tension around the eyes, and her neck and head gently nodding downwards. 
So if licking and chewing can mean tension and anxiety, relaxation, processing of information, or simply a dry mouth because she needs a drink, where does that leave you in your own dialogue with your horse? My thoughts are that if you go ahead and learn more about learning theory and ethology of the horse, then you will have the tools to understand his/her language more comprehensively. This opens up so many doors, and in my opinion, is where a foundation of connnection and trust can be built. By paying attention to this language, it is incredible what you can learn from your horse. By truly giving them a voice, allowing them to be heard, you open the door to some magical horse-human moments.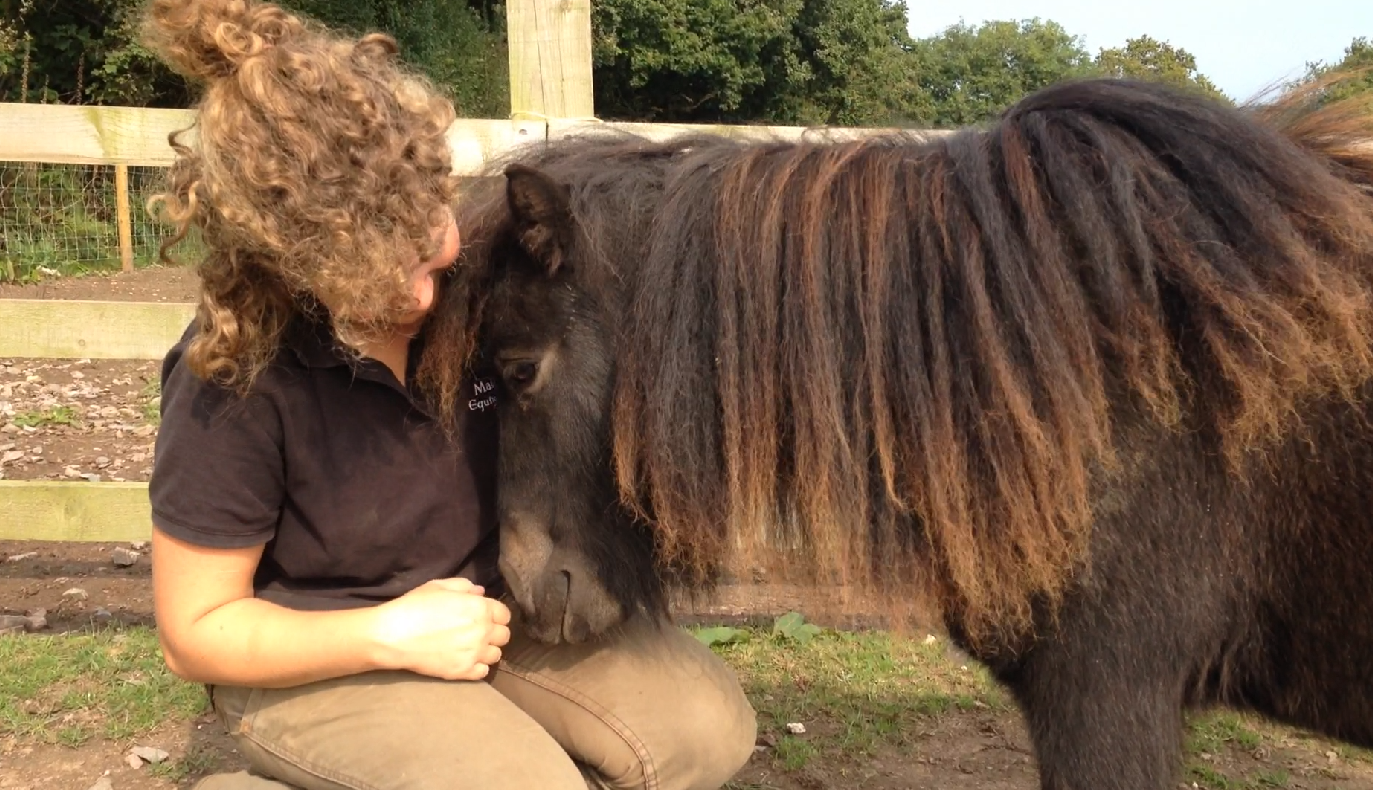 Me and Bracken, a nervous pony at Munchkins Minature Shetland Rescue Centre.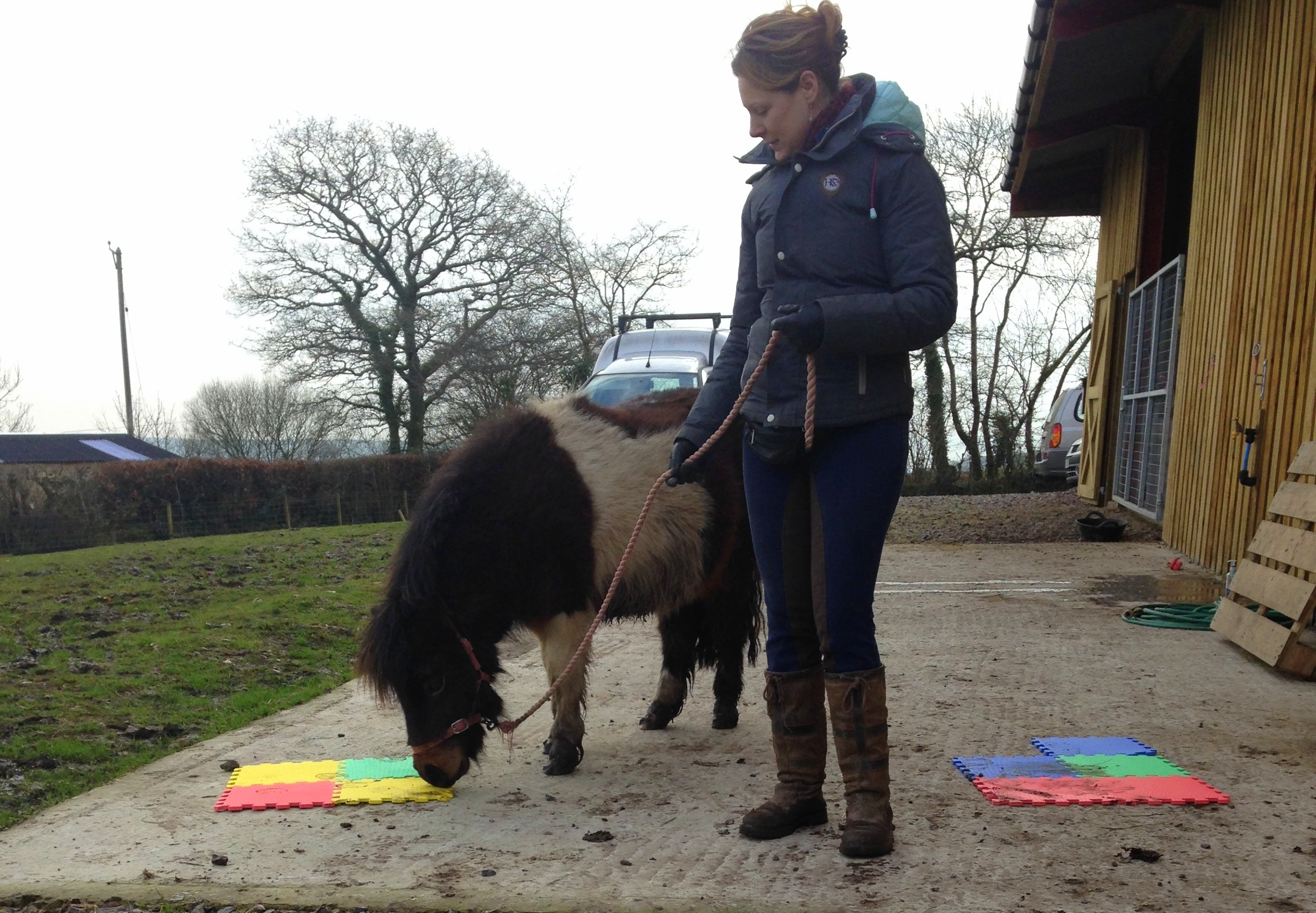 Toby at Munchkins Miniature Shetland Rescue Centre meeting new objects and surfaces during a confidence building session.
We have touched on the 'magic', what about the many horsemanship myths out there? Again, the equestrian industry is steeped in myth, which, little by little, science is able to bust through.
Behavioural scientists might not be as glamourous as show-men and glitzy horse trainers, but they have dedicated their profession to evidence based research, which is a noble task in a time when you can find counter-arguments for anything by an internet search!
I am not going to spend this article writing out each of the equestrianism myths I can think of - I wouldn't want to waste the time of you, the reader! Again though, I would urge you to look at the horse as a whole, and whether your ideas are coherant with what the species is all about. Here is one very common equine myth: You have to dominate your horse to be his leader. Please check out the EBTA article here if you'd like to look into that subject in more detail.
Both traditional horsemanship, natural horsemanship and spheres in between have used dominance and hierarchy some of their core principles. These ideas are flawed, but they do say a lot about human beings as a species. After all, it is true that what you are looking for, you will surely see!
So what are we looking for when we seek out a connection with our equine friends? If we looking to understand them as a species and develop a powerful inter-species connection, how is the best way to attain that? Rather than following anecdotal evidence or centuries of tradition, I would say a far braver path would be to "take the reins" so to speak and learn the basics of equine ethology to be able to recognise for yourself what your horse is telling you. That is when the magic really begins.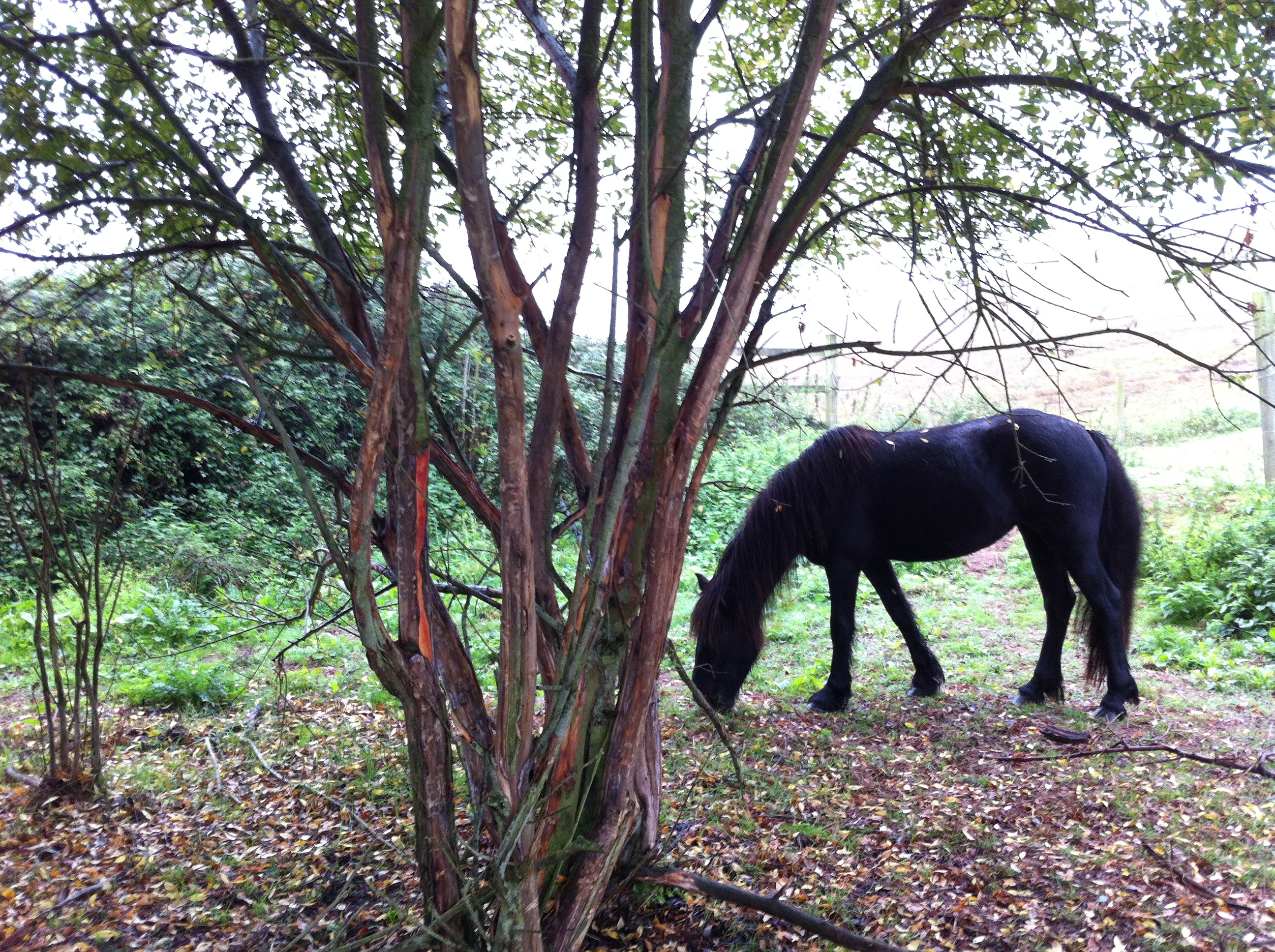 Categories: None
/